So like most pregnant women, I have become anemic. Apparently this is a common plight of pregnancy. My doctor told me to start taking iron pills, with a warning that they might cause a certain side effect - constipation. Now not to get too detailed on the subject, but with all the other possible discomforts of pregnancy, I have managed to side step this one problem along the way.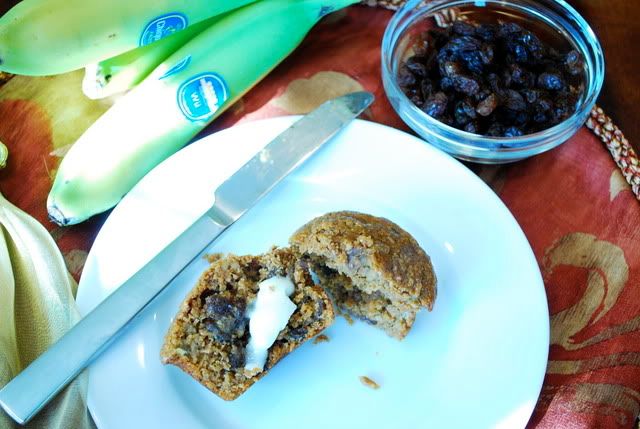 So I'll be damned if now toward the end I'm going to let iron pills stop things in their tracks, if you catch my drift. I figured, instead of chasing my iron pill with a 'softener' (again, if you catch my drift) I'd rather chase it with a yummy bran muffin. Ina Garten to the rescue!! I saw her making these on Food Network one afternoon and it was like fate. They showed up just in time to save me from myself.
Now in addition to being practical little gems, they are quite tasty as well. A two-fer if you will - healthy bran and sweet, tasty banana and raisins.
So you don't have to be suffering from anything in particular (if you catch my drift yet again), to enjoy these muffins at your breakfast table. Butter them up and gobble them down! They freeze beautifully as well so you can enjoy them for many a day.
Chunky Banana Bran Muffins
Ina Garten, www.foodnetwork.com
•1 cup unprocessed wheat bran
•1 cup buttermilk (shaken)
•4 tablespoons unsalted butter, at room temperature
•1/4 cup light brown sugar, lightly packed
•2 extra-large eggs, at room temperature
•6 tablespoons unsulphured molasses
•1 teaspoon grated orange zest
•1/2 teaspoon pure vanilla extract
•1 1/2 cups all-purpose flour
•3/4 teaspoon baking powder
•1/4 teaspoon baking soda
•1/2 teaspoon kosher salt
•1 cup raisins
•1 cup large-diced bananas
•1/2 cup chopped walnuts
Directions
Preheat the oven to 350 degrees F. Place paper liners into 1 (10 or 12-cup) muffin tin.
Combine the bran and buttermilk and set aside. Cream the butter and sugar in the bowl of an electric mixer fitted with the paddle attachment for about 5 minutes, until light and fluffy. With the mixer on low, add the eggs, 1 at a time. Scrape the bowl and then add the molasses, orange zest, and vanilla. (The mixture will look curdled.) Add the bran/buttermilk mixture and combine.
In a separate bowl, sift together the flour, baking powder, baking soda, and salt. With the mixer on low speed, slowly add the flour mixture to the batter just until combined. Don't overmix it! Fold in the raisins, bananas and walnuts with a rubber spatula.
With an ice cream scoop or large spoon, fill the muffin cups to the top and bake for 25 to 30 minutes, until a cake tester comes out clean.