When I was younger, my mom and I used to make the boxed blueberry muffins often on Sunday mornings. I always thought they were pretty decent, especially coated with a pat of butter or two. In recent years though, I've really tried to make baked goods from scratch only. It cuts down on the amount of baked goods I eat since it takes much more effort but it also ups the quality of course. Nothing beats homemade baked goods.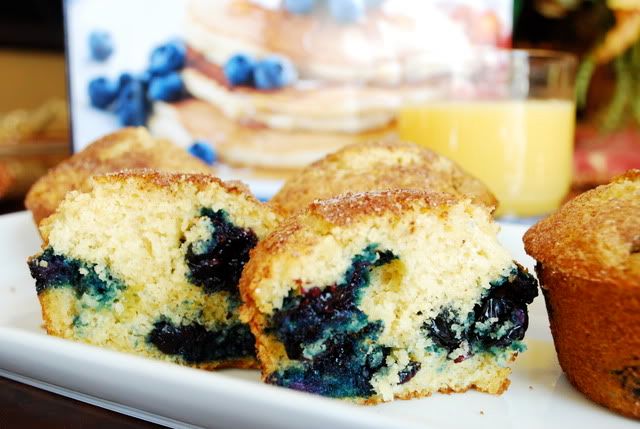 I saw these
Blueberry Cornmeal Muffins
in my
Essentials of Breakfast and Brunch Cookbook from Williams-Sonoma
. This was a Christmas present from my husband and since he loves big breakfasts on the weekend I can't help but think it was kind of present for both of us. It really has some wonderful recipes inside and beautiful pictures to boot. Anyway, I had bought a pint of blueberries at the grocery store with the intention of just adding them to my daily yogurt, but then I had a craving for hot, sweet blueberry muffins.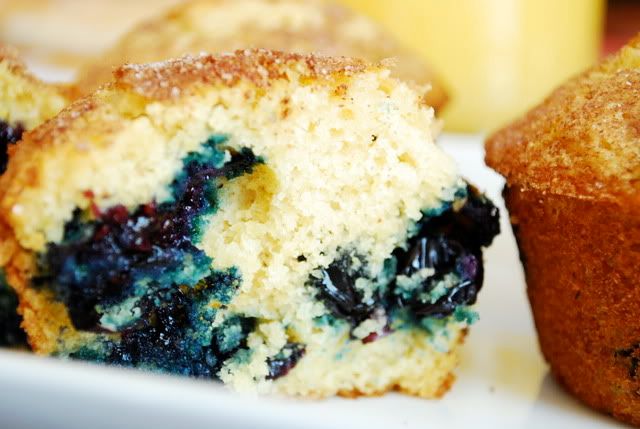 These were a slight twist on the traditional muffin because they had the added texture of cornmeal. So it was kind of two muffins in one! Blueberry and corn muffins. A cinnamon-sugar topping adds a spicy sweetness to these muffin tops as well so don't skip that step! They were easy to mix up and even easier to eat. I froze the batch so I could enjoy them all week. If you have a little extra time this Sunday, be sure to make these yummy treats. Enjoy!
Blueberry-Cornmeal Muffins
6 tablespoons unsalted butter
1 1/2 cups all purpose flour
1/2 cup fine ground cornmeal
2 teaspoons baking powder
1/2 teaspoon baking soda
1/4 teaspoon salt
1/4 teaspoon nutmeg
2/3 cup firmly packed light brown sugar
2 large eggs
1 cup milk
1 cup fresh or frozen blueberries
2 tablespoons granulated sugar mixed with 1 teaspoon ground cinnamon
Position a rack in the middle of the oven and preheat to 400 degrees. Butter 12-standard muffin pan cups or line with paper liners
In a bowl stir together the flour, cornmeal, baking powder, baking soda, salt, nutmeg and brown sugar. Set aside.
By hand: In a large bowl whisk the eggs until blended. Whisk in the milk and butter. Add the dry ingredients and stir with a rubber spatula just until moistened. Do not overmix. Fold in the berries.
By Mixer: In a large bowl, combine the eggs, milk and butter and beat on low speed just until blended, Add the dry ingredients and mix on low speed just until moistened. Do not overmix. Fold in the berries with a rubber spatula.
Spoon the batter into the prepared muffin cups, filling each about three-fourths full. Sprinkle the cinnamon sugar evenly over the tops. Bake until a toothpick inserted into the center of a muffin comes out clean, 15-18 minutes. Transfer to a wire rack and let cool in the pan for two minutes, then turn out onto the rack. Serve warm or at room temperature. Store in an airtight container at room temperature for up to 2 days. (My note: Or freeze in an airtight bag once the muffins have cooled to enjoy longer. Just thaw in microwave for 45 seconds each.)