I love recipes like this. They really speak to what makes the food blogging community so great. I found this recipe on a random trip over to
Gorgeous Gourmet blog
. While perusing Lisa's blog I came across this recipe, which she had gotten from a roofer working on her house who shared her passion for cooking. So from one roofer to her to me comes this delicious, easy and elegant recipe idea for chicken! It's just kind of cool to me how food blogging can instantly connect people - people you may never even meet! So I guess I have to thank Lisa and John the roofer for this chicken recipe.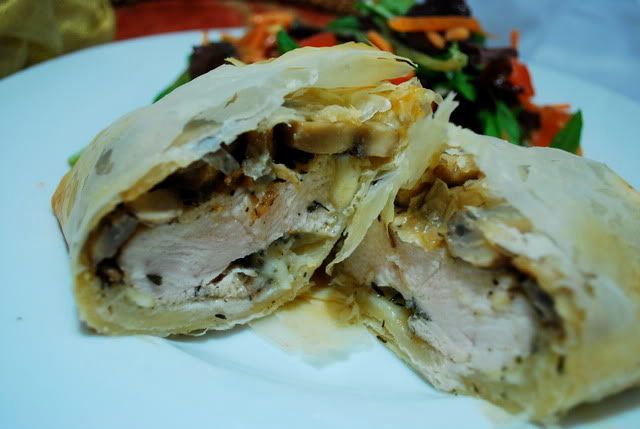 Each one of us can keep the basic recipe and make our own adaptations. For example, Lisa wrapped her chicken in puff pastry. I had some phyllo dough in my freezer so I wrapped my chicken in that. I also subbed lemon juice for the white wine since I don't have any wine on hand at the moment being 7 months pregnant.
It is so fun to share recipes and try out new ones and put your own twist on them all at the same time. Without a food blog, I would have never found this recipe! Now it will become one of our go-to meals. I even think it could be served to company or done as an appetizer version for a party. There are so many possibilities. But the best part is, I'm going to a bridal shower this weekend and they are asking for everyone to bring a recipe for the bride. I've decided this one will be my contribution. It's so easy to adjust for two or 20 people, not too expensive, and not too difficult but makes a beautiful presentation. I hope your blogging and blog-reading has lead you to some great recipes! Enjoy!
Chicken in a Love Nest
adapted from Gorgeous Gourmet
2 chicken breasts (cut in half if you decide to make 4 portions)
Salt and freshly ground black pepper
1 tablespoon fresh thyme, chopped
2 tablespoons olive oil
2 tablespoons butter
4 tablespoons butter, melted (keep separate from other butter as this will be used for the phyllo dough)
1/2 pound mushrooms, sliced (use any kind you like, I used baby portabellas)
1 teaspoon Dijon mustard
A splash of white wine or a squeeze of fresh lemon juice
10 sheets of phyllo dough
4 thin slices of provolone cheese or any cheese you prefer or have on hand (Lisa used brie originally)
Pre-heat oven to 375°F with the oven rack in the middle.
Pre-heat a large skillet over medium-high heat with 2 tablespoons olive oil. Season the chicken breasts with salt, freshly ground black pepper, thyme. Add the seasoned chicken breasts to the hot skillet to brown, about 2 minutes each side, until nice and golden brown. Remove to a paper towel-lined platter and reserve.
To the same skillet, add the 2 tablespoons butter and the mushrooms. Cook until slightly brown and tender, then season with salt and freshly ground black pepper. Add the Dijon mustard and wine, and cook until there is almost no liquid left in the pan. Remove the mushrooms from heat and reserve.
While the mushrooms are cooking, place the phyllo on a clean and flat work surface area. Using your melted butter and a pastry brush, brush five sheets of phyllo each with butter and stack. Then do the same for five more.
Place 2-3 slices of cheese in the middle of each sheet of puff pastry and top with a chicken breast.
Spoon some mushrooms over the chicken, then fold it up into a neatly formed package: Fold two opposite points of the phyllo in towards one another over the chicken breast, pinching lightly to secure. Repeat with the other two points of the diamond, pinching gently to make all that all the seams are sealed shut.
Brush the oustide of each packet with butter or olive oil and place them on a parchment-lined baking sheet, seam side down. Transfer to the oven on the middle rack for 12-15 minutes, until the dough is a beautiful golden brown. Serve warm.