I don't think you get any closer to a "from scratch" pie than this. First of all - I picked the apples myself. That's right! Right from the tree. We have a local pick-your-own farm in my county and myself and a friend spent the afternoon picking Red Delicious and Jonagold apples.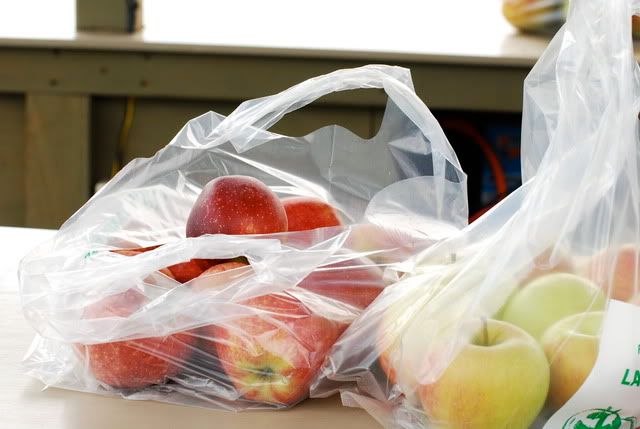 I used the beautiful tart and sweet Jonagolds for this pie and I think it had to be one of the best apple pies I have ever made. These were the perfect apples for pie.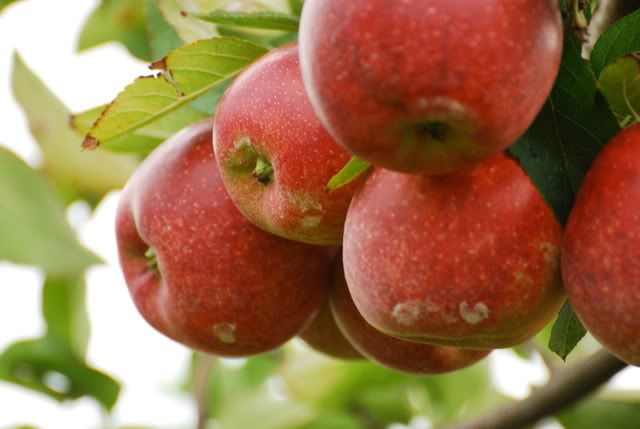 On top of picking my own apples, I made the crust from scratch as well. I know, ambitious right?? Are you impressed yet? Well, it doesn't stop there my friends. I went on to make some homemade cinnamon ice cream to dollop up on top of this apple laden monstrosity.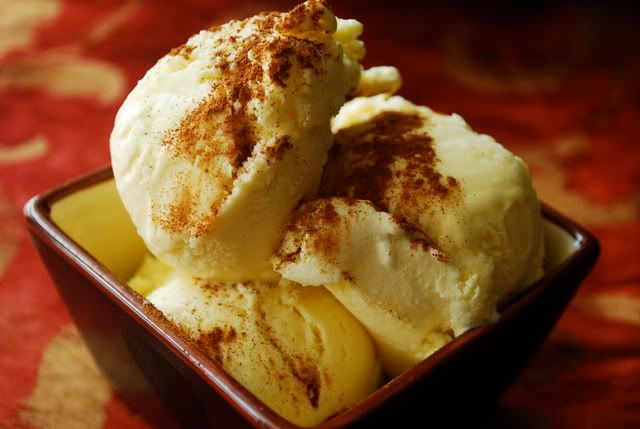 I know, I know. Please no applause :) And aren't you feeling lucky today? I'm going to share all three recipes with you! Unfortunately the pie was eaten so fast by my family that I only got a picture of my piece. And it was hard to take pictures of the crust making process when your hands are covered in flour. I really need to look into getting myself an assistant!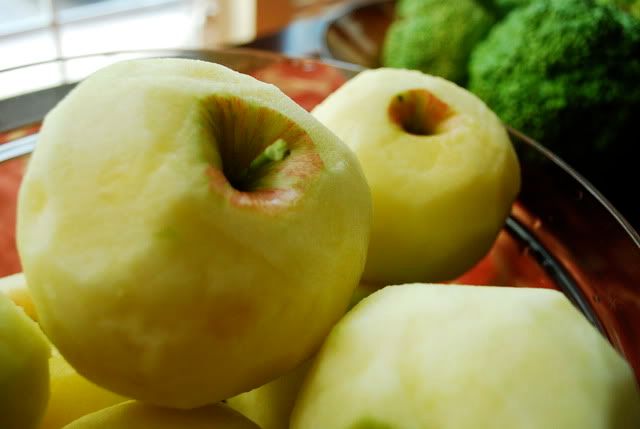 Anyway, on to the good stuff. I used three cookbooks to make this dessert, trekked through bee-laden apple orchards and kneaded mounds of pie crust and I'll tell you what. I'd do it all again in a heartbeat for another bite of this biblically sinful fruit-filled pie. The ice cream alone is worth the effort. It's super creamy and rich, so you barely need more than a small scoop to satisfy. The cinnamon flavor is not too intense either. Enjoy!
Easy As Pie Crust
Nordstrom Friends and Family Cookbook
4 cups all purpose flour
1 tablespoon sugar
2 teaspoons kosher salt
1 3/4 cups solid vegetable shortening (I used butter) cut into cubes
1/2 cup ice cold water
1 large egg
1 tablespoon fresh lemon juice or cider vinegar
In a large bowl, stir together the flour, sugar and salt. Using a pastry blender or two knives cut the shortening into the flour mixture until it resembles course meal. In a small bowl using a fork, mix together the water, egg, and lemon juice or vinegar until blended. Add the water mixture to the flour mixture and mix with a fork until it comes together and forms a mass.
Transfer the dough to a floured work surface gathering all the loose bits and divide into 5 equal balls. Flatten to form disks, wrap each individually in plastic wrap and refrigerate for at least 15 minutes before rolling out. Double wrap, label and freeze any dough you won't use. Thaw in refrigerator. The dough can be frozen for up to one month.
Homemade Apple Crumb Pie
Better Homes and Gardens New Cookbook
1 recipe for pastry crust
8 cups of thinly sliced, peeled apples
1 tablespoon lemon juice
3/4 cup sugar
2 tb flour
1/2 teaspoon ground cinnamon
1/4 teaspoon nutmeg
For the crumb topping:
Stir together 1/2 cup flour and a 1/2 cup packed brown sugar and a pinch of cinnamon. Using a pastry blender cut in 3 tablespoons of butter till the mixture resembles coarse crumbs. Sprinkle on top of your filled pie before baking.
Preheat oven to 375 degrees. To assemble the pie, first roll out your pastry crust and line a 9-in
deep dish
pie plate. Sprinkle the apples with lemon juice. In a large mixing bowl stir together the sugar, flour, cinnamon and nutmeg. Add the apple slices. Gently toss until coated.
Transfer the apple mixture to the pie plate. Cover with your crumb topping. Bake for an hour or until the juice that begins to bubble in the pie is thick and syrupy. If you remove your pie too early, when the juice is thin and watery, then your apples won't be fully cooked. Serve hot or cold with your favorite ice cream.
Cinnamon Ice Cream
The Perfect Scoop, David Leibowitz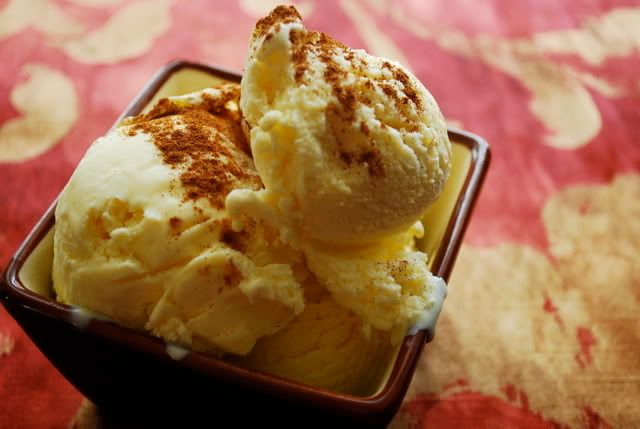 1 cup whole milk
3/4 cup sugar
pinch of salt
10 3-in cinnamon sticks, broken up
2 cups heavy cream
5 large egg yolks
Warm the milk, sugar, salt, cinnamon sticks and 1 cup of the cream in a medium saucepan. Once warm, cover, remove from the heat and let steep at room temperature for an hour.
Rewarm the cinnamon infused milk mixture. Remove the cinnamon sticks with a slotted spoon and discard them. Pour the remaining 1 cup cream into a large bowl and set a mesh strainer on top.
In a separate medium bowl whisk together the egg yolks. Slowly pour the warm mixture into the egg yolks, whisking constantly, then scrape the warmed egg yolks back into the saucepan. Stir the mixture constantly over medium heat with a heatproof spatula, scraping the bottom as you stire, until the mixture thickens and coats the spatula. Pour the custard through the strainer and into the cream. Stir until cool over an ice bath.
Chill the mixture thoroughly in the fridge then freeze in your ice cream maker.