That's a beautiful title for a post isn't it? It needs no sprucing up. Just the facts right there. Love it!
I love carrot cake. It's a vegetable in a cake so by girl math, I can eat this and not feel super guilty. It is chock full of beta carotene! Who cares what it's doing to my thighs when it's improving my eyes? Right? Just say right and no one gets hurt.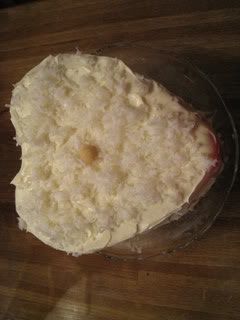 I made this Tropical Carrot Cake for Valentine's Day, hence the heart shape. I saw the recipe over at
Dinner and Dessert,
a lovely blog full of yummy baked goodies. This was hands-down one of the most delicious cakes I've ever had in my life. It's Moist (yes, with a capital M), filled with sweet carrot and tangy pineapple flavor, nutty, coconutty and topped off with literally THE BEST TASTING CREAM CHEESE ICING EVER! I'm not ashamed to admit that I gleefully licked both beaters after whipping that icing up.
The one thing I would add next time I make this is raisins. I love raisins in my carrot cake. I think I'd add golden raisins because they are so plump and juicy. It would add to the bumpy landscape of a slice of this enormous cake. And enormous it is. It's a 3-layer cake! But it makes such a beautiful presentation. You'll love it. And you'll love eating it all week long.
I can't take credit for the beautifully smooth icing job on this. My mom took over for me on the decorating part because I can not decorate a cake. Why? First of all, I think it's because I'm left-handed. Second of all, I don't have the patience. So thanks mom!
Excuse the dark pics - my mom's house come evening, is not the best place for photo taking. But you get the idea...
Tropical Carrot Cake with Coconut Cream Cheese Frosting
source: The Pastry Queen, by Rebecca Rather
1 cup macadamia nuts (I recommend chopping these up or crushing them)
3 cups all purpose flour
3 cups sugar
1 tbsp baking soda
1 tsp salt
1 tbsp ground cinnamon
1/2 tsp ground nutmeg
1-1/2 cups sweetened flaked coconut
4 large eggs
2 tbsp vanilla
1-1/2 cups vegetable oil, such as canola or safflower
1-1/2 cups shredded peeled carrots
1-1/2 cups diced fresh pineapple or drained crush canned pineapple (this is one 20 oz. can)
1/2 cup sweetened cream of coconut, such as Coco Lopez
Coconut-Cream Cheese Frosting
3 (8 oz) packages cream cheese, at room temperate (I used 4 packages)
1-1/2 cups powdered sugar (I used 2 cups)
1/4 cup heaving whipping cream (I used 1/4 cup + 4 tsp)
1/4 cup sweetened cream of coconut, such as Coco Lopez (I used 1/4 cup + 4 tsp)
1/2 tsp salt (I used 1/2 tsp + 1/8 tsp)
To Make the Cake:
Preheat the oven to 350F. Arrange the nuts on a baking sheet in a single layer and toast them for 7 to 9 minutes, until golden and aromatic. Set aside to cool.
Place one oven rack one-third from the bottom of the oven and the second two-thirds from the bottom. Preheat the oven to 350F. Line three 9-inch cake pans with parchment paper rounds, grease with butter, and dust with flour (or spray with Baker's Joy).
Stir together the flour, sugar, baking soda, salt, cinnamon, nutmeg, coconut, and nuts in a large bowl. In another large bowl, whisk together the eggs, vanilla, oil, carrots, pineapple, and cream of coconut. Pour the egg mixture into the flour mixture and stir until combined.
Pour the batter into the prepared cake pans. Stagger the cake layers on the oven racks so that no layer is directly over another. Set 2 layers on one rack and the third on the other. Bake for 30 to 35 minutes. The cakes are done when they are golden brown on top and a toothpick inserted into the center comes out clean. Cool the cakes in their pans on racks for 5 minutes, then invert them onto the racks and cool completely, about 15 to 20 minutes.
To Make the Frosting:
Using a mixer fitted with a paddle attachment, beat the cream cheese and powdered sugar in a large bowl on medium-high speed about 1 minute. Add the whipping cream, cream of coconut, and salt; beat until combined.
Place 1 cake layer on a serving plate and spread a thick blanket of frosting on top. Add the second layer, spread thickly with frosting, and top with the third layer. Cover the top and sides of the cake with an even layer of frosting. If you're feeling energetic and there is frosting left over, use a pastry bag fitted with a decorative tip to pipe a decoration around the top rim of the cake.
The cake can be covered with plastic wrap and refrigerated up to 4 days. Let it cool in the refrigerator about 1 hour before covering, to ensure the frosting has hardened and will not stick to the plastic wrap.
Yield: 12-14 Servings.