I've been eyeing this recipe in my
Nordstrom Friends and Family Cookbook
for a while now. The name alone is what drew me in. It just sounds so elegant and flavorful. Just imagining the sweet and savory combination of orange and rosemary on tender roast chicken makes my mouth water. It's what I would call, succulent, even though I kind of have a problem with that word. I think it's the way it sounds coming out. There is something slightly off-putting about it. It just seems like an almost obscene way to describe a food. I feel like I've said a dirty word - say it slow and maybe you'll see what I mean. Suuuuuccculeeennntt. Hmmmm.
Anyway, I reserve it for things that are truly opulent. And I think a fall-off-the-bone roast chicken glazed in an expensive orange liquer fits that bill. Anyway, enough of me and my problems with "succulent". I'm just a food adjective prude I guess.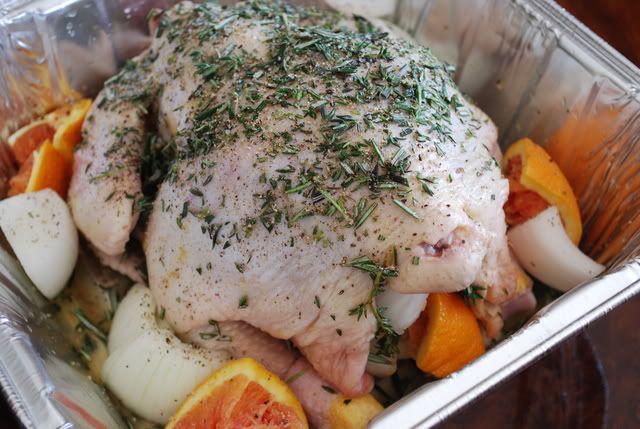 I have had a frozen 4-lb bird in my freezer for, well, too long to mention without being a bit embarrassed. I think it's been 2 months?? So I thawed it out and started to plan several dinners around it. The first being this roast chicken. The best part about this recipe, hands down, is the Grand Marnier glaze. If I was you, I would glaze your chicken as the recipe says, but definitely reserve a good bit of this glaze for dipping your moist chicken into while eating it. It should not be missed!!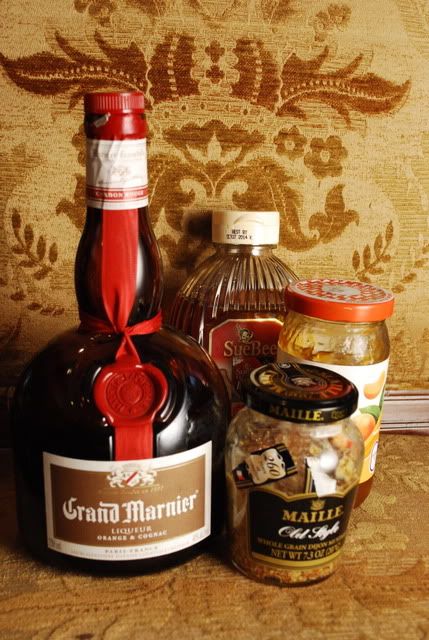 And don't throw away your chicken carcass. I threw mine in the fridge and plan on making some homemade chicken stock with it later in the week. In addition, I saved the pan drippings that the recipe has you pour off to make Nigella Lawson's
Tagliatelle with Roasted Chicken from the Venetian Ghetto
. It uses the pan juices to create a deliciously light sauce for pasta. It also incorporates the leftover roast chicken. I'll be blogging this shortly!
Meanwhile, start with this roast chicken. And don't be afraid to coo to your cooked bird and tell it in a sultry voice how succulent and saucy it looks. I'm sure your chicken will appreciate you whispering sweet nothings to it before you eat. Enjoy!!
Grand Marnier Roasted Chicken
Nordstrom Friends and Family Cookbook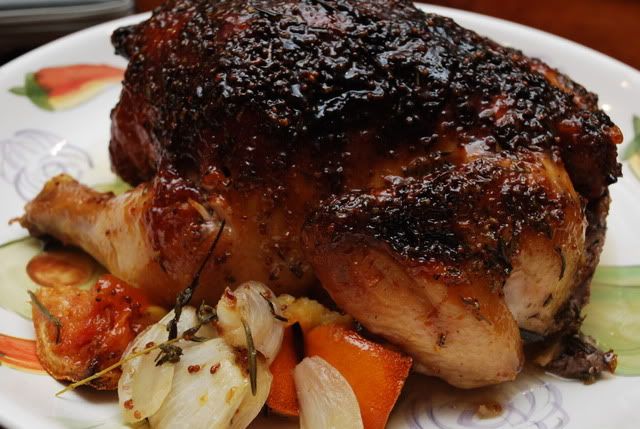 1 chicken (about 4 lbs)
1 orange, quartered and seeds removed
3 large fresh rosemary sprigs
5 fresh thyme sprigs (this was my addition)
1 small onion, quartered
kosher salt
fresh ground pepper
1/2 cup water
3 tb unsalted butter
3 tb whole-grain mustard
3 tb apricot preserves
3 tb honey
3 tb Grand Marnier
Preheat the oven to 400 degrees. Place the chicken, breast side up, on a rack in a small roasting pan and squeeze the juice from the orange quarters over the chicken. Place the orange quarters inside the cavity along with the rosemary, thyme and onion. Season the outside of the chicken generously with salt and pepper and if you have extra fresh herbs throw those on as well. Pour the water into the bottom of the pan.
Roast the chicken for 30 minutes. Rotate the pan 180 degrees and reduce the heat to 375. Continue to cook for 25 minutes longer.
While the chicken is roasting, melt the butter in a small saucepan over medium heat and then stir in the mustard, preserves and honey. Cook stirring constantly until well blended, about 2-3 minutes, and then add the Grand Marnier. Stir to combine and remove from the heat.
Remove the chicken from the oven, pour off the juices from the pan (and reserve this for future use in another dish - simply bottle and refrigerate) and brush the chicken with the Grand Marnier glaze. Continue roasting the chicken, basting frequently with the glaze until the juices run clear when the thigh meat is pierced with a knife and the drumstick moves easily, about 15 minutes longer. If the chicken is browning too quickly, tent it with aluminium foil.
Remove the chicken from the oven and let rest for 10 minutes before carving and serving.