In honor of our little porkchop, who arrived a week early on Feb. 18, I made this quick and simple, yet flavorful, pork dish. Our second daughter made her debut a little over a week ago, much to our surprise. I never thought I'd be lucky enough to deliver a baby early. I didn't miss that last week of pregnancy, that's for sure!! She is totally perfect and looks so much like our first daughter that it's uncanny.
So with two little ones around, I'm on the market for easy, quick dinners but at the same time I don't want to fall into a rut - which is so easy to do when you have no time. I will admit, we indulged in a lot of carry-out this past week. It's so much easier to leave the cooking to someone else when you're functioning on 4 hours or less of sleep. The greasy, heavy, mediocre quality of the food however, gets old REALLY fast. So I'm going to try to put some homemade meals on the table as much as possible, but not beat myself up if we need to phone a carry-out friend to get us out of the weeds.
Stay tuned for a decadent roast chicken later in the week that turns into some awesomely comforting homemade chicken stock for a hearty ribollita soup. And along the way, I plan on using the leftover roast chicken in a savory Nigella Lawson pasta dish. I can't wait to tackle those meals!
Meanwhile, I present this Rachael Ray recipe. A tasty twist on traditional pork cutlets. I served it with a nice fresh salad and steamed green beans. I changed the title that is given on the Food Network website, as I didn't think "Honey Mustard Cutlets" really described what the dish consisted of. Call it creative liberties. Enjoy!!!
(Oh and please excuse the crudity of these photos. We didn't eat until 8:30 p.m. that night, after our toddler was tucked into bed, so I snapped a few quick pics with my point and shoot because it was handy. I'm not proud of them, but I always think when it comes to a food blog some picture is better than no picture.)
Honey Apricot Pork Cutlets
courtesy of Rachael Ray, www.foodnetwork.com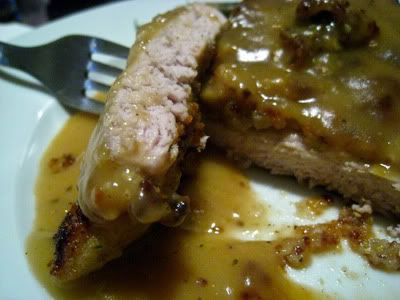 4 thin-cut boneless pork loin chops
Salt and freshly ground black pepper
1/4 cup grainy Dijon mustard
1/4 cup honey
2 tablespoons cider or wine vinegar
1 cup bread crumbs
2 tablespoons freshly chopped thyme leaves
1 lemon, zested (I omitted this)
2 tablespoons extra-virgin olive oil
2 tablespoons butter
2 tablespoons all-purpose flour
2 tablespoons orange marmalade or apricot preserves
1 cup chicken stock
2 teaspoons Worcestershire sauce
Directions
Line a baking sheet with a wire rack.
Heat the oven to 275 degrees F.
Trim the fat from the chops and sandwich each chop between 2 pieces of waxed paper or plastic. Pound the chops to 1/8-inch thickness and season with salt and pepper, to taste.
In a shallow dish combine the mustard, honey and vinegar. Add the chops and turn to coat in sticky sauce. On a plate combine the bread crumbs with the thyme and zest of the lemon. Press chops in the crumbs to coat evenly. Heat the extra-virgin olive oil, a couple turns of the pan, in large skillet over medium heat. Cook the cutlets until crisp, 3 to 4 minutes on each side. Arrange the chops on the baking sheet with the rack and put in the oven to keep them crisp. To the skillet, over low heat, add the butter and melt. Whisk in the flour and cook for 1 minute. Stir in the preserves, then whisk in the stock. Cook for a couple of minutes to thicken and season with salt and pepper, to taste. Transfer the chops from the oven to a serving platter and douse with sweet-savory gravy before serving.