Why do I do this to myself? Why do I make an entire decadent cake when the only people around to eat it are myself and my husband? My thighs and hind quarters were pleading with me throughout the whole baking process and the subsequent multiple tastings of the pineapple cream cheese frosting....WHY????????
Well I'll tell you why. Because when you are 9-months pregnant you shove aside the nagging guilt and give yourself a break. I was craving strawberry shortcake and Valentine's Day was conveniently around the corner. So I surfed the interwebs and found these two delicious recipes,
Strawberry Shortcake Cake
from
The Pioneer Woman's
blog, and
Pina Colada Cake
from
Annie's Eats
blog. I combined elements from both to satisfy my sweet tooth.
I used Pioneer Woman's cake recipe, which includes macerated fresh strawberries, and added coconut extract and shredded coconut from Annie's
Pina Colada Cake
. I topped it with the sinfully delicious Pineapple Cream Cheese frosting from Annie's cake recipe. That stuff is a dessert within itself. It would be wonderful as a dip for fresh fruit. I seriously had to stop myself from eating spoonfuls of it while I iced the cake. My gluttony at 10 a.m. was utterly disgusting. I am pretty sure I had a cream cheese frosting mustache from trying to lick the bottom of the bowl when I was done. Shameful indeed.
On top of the cake, my sweet sweet husband came home yesterday with a half-dozen chocolate covered strawberries from Godiva. Lord help my cellulite! At least the flowers he had sent were calorie-free and almost as enjoyable as the chocolate and this cake. Happy Valentine's Day!! Enjoy it, without feeling any guilt. Pregnant or not!
Strawberry Pina Colada Shortcake
adapted from Pioneer Woman and Annie's Eats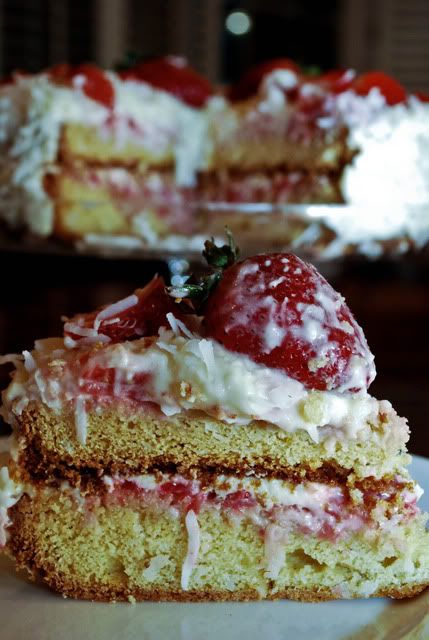 For the cake:
1-1/2 cup Flour
3 Tablespoons Cornstarch
1/2 teaspoon Salt
1 teaspoon Baking Soda
2/3 cup shredded sweetened coconut
9 Tablespoons Unsalted Butter, Softened
1-1/2 cup Sugar
3 whole Large Eggs
1/2 cup Sour Cream, Room Temperature
1 teaspoon Vanilla
1/2 teaspoon coconut extract
For the strawberry filling:
1 pound strawberries, hulled
2 tablespoons sugar
For the frosting:
3/4 cup crushed pineapple, drained
12 oz. cream cheese, at room temperature
18 tbsp. unsalted butter, at room temperature
2 2/3 cups confectioners' sugar, sifted
Shredded sweetened coconut for decorating
More strawberries for decorating
IMPORTANT: Be sure to use a cake pan that's at least 2 inches deep! Before baking, the batter should not fill the pan more than halfway.
Sift together flour, salt, baking soda, and corn starch.
Cream 9 tablespoons butter with the sugar until light and fluffy. Add eggs one at a time, mixing well each time. Add sour cream and vanilla and mix until combined. Add sifted dry ingredients and mix on low speed until just barely combined.
Pour into greased and floured 8-inch cake pan. Bake at 350 degrees for 35-40 minutes, or until set. Remove from cake pan as soon as you pull it out of the oven, and place on a cooling rack and allow it to cool completely.
Slice your strawberries and place into a bowl and sprinkle with 2 tablespoons sugar. Mash with a fork or muddler and set aside for 30 minutes while cake cools.
To make the frosting, puree pineapple in the food processor until smooth. In the bowl of an electric mixer, beat the cream cheese and butter on high speed until smooth and fluffy, about 4 to 5 minutes. Add powdered sugar and mix until smooth. Add pureed pineapple. If frosting is too liquid, allow to chill in the refrigerator 30 minutes before using to set up.
Now it's time to assemble your cake. Cut your cooled cake in half lengthwise with a serrated knife. Divide your strawberries in half and then top each cut side of your cake with one half of the strawberry mixture. Next frost the top of one of your halves until the strawberries are covered. Once complete, top with your other cake half and now you can begin to frost the entire cake. Once frosted generously, you can pat on your shredded coconut.
Refrigerate your cake to set the icing. Slice and serve.