Ever since I was a little girl, Friday night has been pizza night. My mom used to make batches of homemade pizza dough, freeze them and have enough for a month's worth of "pizza Fridays". When I was younger, the pizzas were pretty traditional. Cheese, pepperoni or simple veggies with tomato sauce. Nowadays though, I like to shake it up. I've made countless different varieties of pizza. Sometimes I really think I should open a gourmet pizzeria. One day perhaps....
Anyway, I digress. Before I open up that pizzeria I would probably need to perfect a pizza dough recipe. Details!!
Currently, I buy the balls of pizza dough available in my local grocery store. All I have to do is let them rise for a few hours before baking so it makes the process of homemade pizza that much faster and easier. On top of that, the store-made dough makes a very good, crunchy tasty crust.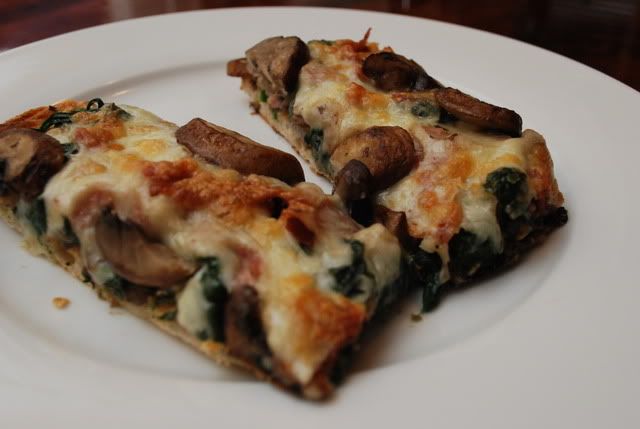 I always use the same technique for my pizzas. I grill the pizza dough over the grill. I start it out on a well-oiled jelly roll pan and then once it has been stretched thin and its shape has set I transfer it directly onto the grill grates. Once my dough has baked up to a nice, golden brown with beautiful grill marks, I remove it and place all my prepared toppings on. Then I put it under the broiler to melt the cheese and bring everything to an ooey gooey finish. I find this method ensures that I'll get a crunchy, crispy crust. I hate soggy or limp pizza crust so I crisp it up first and then place my toppings on. Works every time!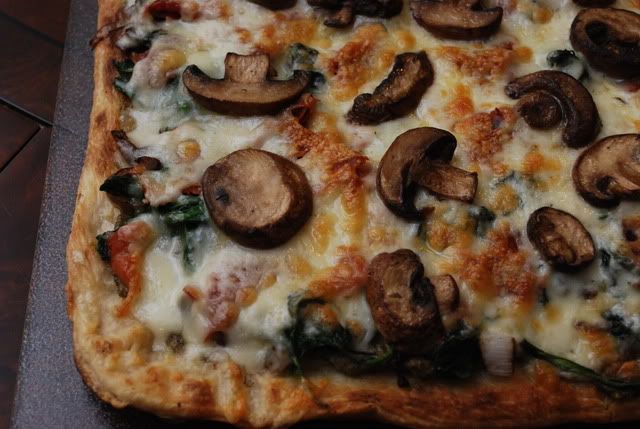 This past Friday I took my inspiration from a recent post on
Annie's Eats
for a Fontina Mushroom Pizza. A mushroom pesto is used as a base and topped with fontina, Parmesan and sliced mushrooms. I added a few twists for our pizza and it turned out delicious. The mushroom pesto really makes this pizza combo unique. The result is a hearty and savory pie. Here is my version. Enjoy!!
Mushroom Pesto Pizza
Adapted from Annie's Eats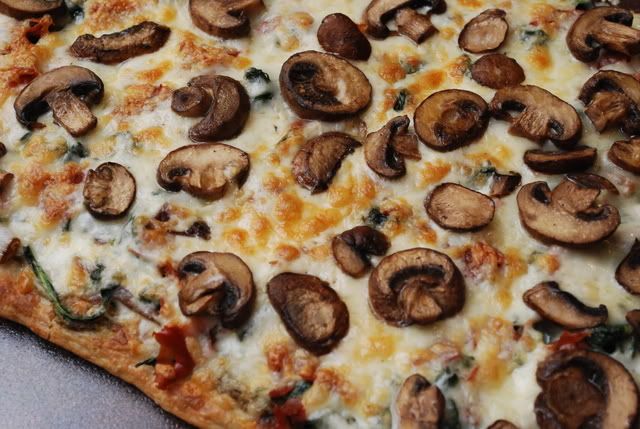 1 recipe for pizza dough, or 1 ball of pizza dough
Bake or grill your dough in a well-oiled pan or hot oven. Once baked, set aside until your toppings are ready.
For the Pesto:
I package of baby bella mushrooms, sliced and sauteed till tender
1/3 cup dried porcini mushrooms, reconstituted in warm water
1-2 tb fresh thyme
2 tb fresh chopped Italian parsley
1/2 cup toasted pine nuts
3 cloves garlic, minced
3 tb grated pecorino romano
1/2 cup olive oil
Place all the ingredients, except for the olive oil, into the bowl of your food processor. Pulse to chop. Once slightly combined, stream in your olive oil to create a thick pate-like mixture. Once fully combined, remove the mixture to a bowl and set aside.
Pizza Toppings:
1 sweet onion, sliced thin
3 tb olive oil
1 tb balsamic vinegar
1 package of baby bella mushrooms, sliced
1 bag of fresh baby spinach
2 cups fontina cheese, grated
6 thin slices of prosciutto
Preheat oven to 350. Arrange your thinly sliced prosciutto on a baking sheet in a single layer. Place in your hot oven and cook until crispy, about 15 minutes. Remove from the oven, and when it is cool, crumble your prosciutto and set aside.
Over a medium flame, add your thinly sliced onion to a pan with 2 tb of your olive oil. Saute until the onions are caramelized, about 20 minutes. Once softened, add in your balsamic vinegar and cook another 3-5 minutes until the vinegar has thickened and coated the onions. Remove from the heat and set aside. Wipe our your pan, and you can add your sliced mushrooms and the rest of your olive oil. Saute until tender and remove from the pan. Be sure to drain any excess liquid that may result from sauteing the mushrooms. You don't want to add that to your pizza because it will make it soggy.
Finally, steam your spinach until wilted slightly. Once cooked, squeeze out the excess water over a colander and set aside. Now you are ready to top your prepared pizza crust.
Preheat your broiler.
Lay your crust on the original pan you used to cook it in (I use a jelly roll pan so my pizzas always come out rectangular).
First- spread a nice layer of your mushroom pesto down over your crust.
Next - top with your sauteed balsamic onions.
Then place your steamed spinach evenly over the onions.
Now top with your crumbled crispy prosciutto.
Then evenly top with your grated fontina cheese.
Finally, add your sauteed mushrooms to the very top of the pizza.
Place in your broiler to melt the cheese and bring all your toppings together - about 5 minutes, depending on how hot your broiler is. Keep an eye on it because you don't want your pizza to burn!! Remove and serve with crushed red pepper and your favorite grated Parmesan or Romano cheese.