It's Lent. So for millions of Catholics that means no meat on Friday. And that includes me. The good thing about this is, I love fish. Any and all kinds of fish. I have never made grouper before so Lent seemed like the perfect time to give it a try.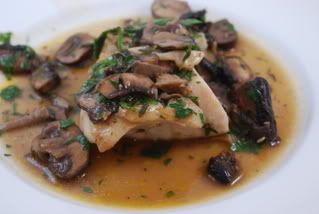 I found this recipe on
The Food Network
, from Mario Batali. I love his show and his real down-home, in the country, my grandmother-did-it-this-way approach to Italian cooking. And his orange clogs are hot. Meaning Paris Hilton, "hot", not "sexy" hot. Anyway, on to the recipe.
Overall, I really liked this dish. It's very mushroom heavy and woodsy, so be prepared for that if you aren't a big mushroom fan. I absolutely adore any mushroom that comes my way so this obviously wasn't a problem for me.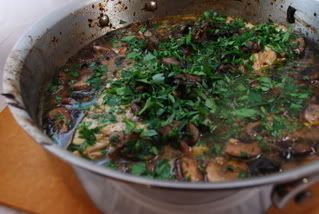 I did find though that the sauce was a bit too winey (and I'm a no-holds barred, I'm not embarrassed to admit it WINO - and it was still too winey for me). On top of that, I think the sauce was too watery. If I was to make this again, which I will, then I would cook the fish in the saute pan and then remove it. Then I would start the sauce, bring it to a boil to cook the winey taste out a bit, and then thicken it up by reducing it and possibly adding some extra butter and maybe a little cornstarch (don't hate me Mario!!!). Otherwise, deeeeelish. Enjoy!
Baked Grouper with Wild Mushrooms
Mario Batali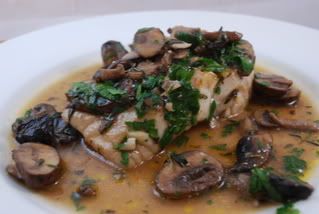 4 tablespoons plus 4 tablespoons extra-virgin olive oil
1/2 pound each chanterelle, portobello and oyster mushrooms, each in 1/4-inch slices
4 cloves garlic, thinly sliced
2 tablespoons tomato paste
1 tablespoon thyme leaves
4 (5-ounce) pieces grouper fillet
Salt and pepper
1 1/2 cups dry white wine
1 bunch Italian parsley, coarsely chopped to yield 1/4 cup
Directions
Preheat the oven to 400 degrees F.
In a 12 to 14-inch ovenproof saute pan, heat 4 tablespoons of oil until smoking. Add the mushrooms and garlic and saute 3 minutes. Add the tomato paste and thyme, and continue to cook 5 minutes. Remove the mixture to a bowl and set aside.
Season the fish well with salt and pepper. Heat the remaining oil in the same pan and add the fish. Saute until deep golden brown on the first side. Carefully turn the fish, add the wine, and return the mushroom mixture to the pan. Put the pan into the oven and cook for 4 minutes, until fish is cooked through. Remove from oven, sprinkle with parsley and serve.