I love Williams-Sonoma. I love their store. I love their products. I love their catalog. I love their recipes. For my wedding, it was the first place I registered, and if it was up to me it would have been the only place. My love of this store has been a long time in the making too. I was probably the only middle-schooler who enjoyed trips to Williams-Sonoma with their mother. Ever since my first visit, it's been like a gleaming palace of all things wonderful about the kitchen and cooking. Beautiful cookware, tons of gadgets and recently I'm realizing, great recipes. This meatloaf recipe was featured in one of the recent catalogs and I instantly ripped it out and put it up on the fridge in the hopes of making it sometime soon.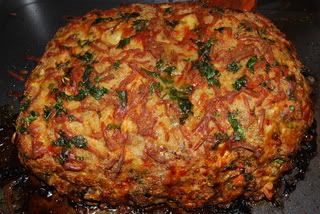 I finally got around to it last week. What a perfect meatloaf recipe! Moist, flavorful and a little more exciting than your traditional beef brick. So...don't let your meat loaf - get up and make this delicious meal soon! I served it with garlic mashed potatoes and topped it with a creamy tomato vodka sauce. It was quite good.
Enjoy!
Cheesy Meatloaf
Williams-Sonoma Magazine
4 Tbs. extra-virgin olive oil
2 carrots, cut into 1/4-inch dice
2 celery stalks, cut into 1/4-inch dice
1 red pepper, diced
1 onion, cut into 1/4-inch dice
1/2 oz. dried wild mushrooms, soaked in 1 cup hot water,
chopped, soaking liquid reserved (I used Porcini)
3 garlic cloves, minced
2 1/4 cups fresh bread crumbs
1 Tbs. plus 1/4 cup minced fresh flat-leaf parsley
2 oz. mozzarella cheese, shredded, plus 6 oz., cut into 1/2-inch cubes
(I used 8 oz of cubed fresh mozzarella instead of 6 oz)
Salt and freshly ground pepper, to taste
2 lb. ground beef (80% lean) (I used 1 lb of ground turkey and 1 lb of hot Italian sausage links - I highly recommend it!)
2 eggs, lightly beaten
1/2 tsp. minced fresh thyme
Mashed potatoes for serving (see related recipe at left)
Directions:
Position a rack in the lower third of an oven and preheat to 350°F. Coat the bottom of a roasting pan with 1 Tbs. of the oil.
In a deep sauté pan over medium-high heat, warm 2 Tbs. of the olive oil. Add the carrots, celery and onion and sauté until tender and starting to caramelize, 8 to 10 minutes. Add the mushrooms and garlic and sauté for 1 minute. Let cool for 10 minutes.
In a bowl, combine 1 1/2 cups of the bread crumbs and 1/3 cup of the mushroom soaking liquid and soak for 5 minutes. In another bowl, combine the remaining 3/4 cup bread crumbs, the 1 Tbs. parsley, the remaining 1 Tbs. olive oil, shredded cheese, salt and pepper.
In a large bowl, using your hands, gently mix together the ground beef, soaked bread crumbs, vegetable mixture, eggs, the 1/4 cup parsley, thyme, cubed cheese, salt and pepper. Transfer the mixture to the prepared pan and shape into a 10-by-5-inch loaf. Cover the top and sides of the meat loaf with the cheese-bread crumb mixture.
Bake until an instant-read thermometer inserted into the center of the meat loaf registers 165°F, about 1 hour and 10 minutes. Let the meat loaf rest for 5 minutes before slicing. Serve with mashed potatoes. Serves 8.