This week's Barefoot Blogger challenge was Chicken Piccata. I just made
Chicken Piccata
by Giada from Everyday Italian a few posts ago, so I was intrigued to try another Food Network Chef's recipe. They were both very similar, except that Ina's includes breading the chicken with breadcrumbs - which I really liked. It helped keep the chicken moist and crispy. I followed this recipe to the letter but did add about a handful of capers because I like them in Chicken Piccata. In fact, that's probably the only dish I like them in. This was a fabulous, easy, go-to weeknight meal. Ina hits it out of the park again!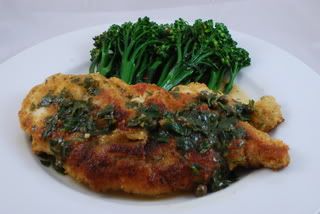 The sauteed broccolini was one of the bonus recipes for the month, but I thought it was a perfect thing to serve with this light and lemony chicken. It was the perfect compliment. I followed her recipe but did add a few shakes of red hot pepper flakes to kick it up a notch. It added a nice spicy bite to the broccolini. Enjoy!
Chicken Piccata
Source: Ina Garten, The Food Network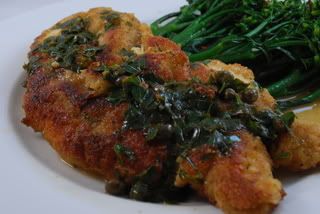 2 Servings (This is one of Ina's only recipes where the serving size was actually correct! Usually her recipes make enough of to feed an army but they say 4 servings. Anyway, on to the recipe.)
* 2 split (1 whole) boneless, skinless chicken breasts
* Kosher salt and freshly ground black pepper
* 1/2 cup all-purpose flour
* 1 extra-large egg
* 1/2 tablespoon water
* 3/4 cup seasoned dry bread crumbs
* Good olive oil
* 3 tablespoons unsalted butter, room temperature, divided
* 1/3 cup freshly squeezed lemon juice (2 lemons), lemon halves reserved
* 1/2 cup dry white wine
* Sliced lemon, for serving
* Chopped fresh parsley leaves, for serving
Directions
Preheat the oven to 400 degrees F. Line a sheet pan with parchment paper.
Place each chicken breast between 2 sheets of parchment paper or plastic wrap and pound out to 1/4-inch thick. Sprinkle both sides with salt and pepper.
Mix the flour, 1/2 teaspoon salt, and 1/4 teaspoon of pepper in a shallow plate. In a second plate, beat the egg and 1/2 tablespoon of water together. Place the bread crumbs on a third plate. Dip each chicken breast first in the flour, shake off the excess, and then dip in the egg and bread crumb mixtures.
Heat 1 tablespoon of olive oil in a large saute pan over medium to medium-low heat. Add the chicken breasts and cook for 2 minutes on each side, until browned. Place them on the sheet pan and allow them to bake for 5 to 10 minutes while you make the sauce.
For the sauce, wipe out the saute pan with a dry paper towel. Over medium heat, melt 1 tablespoon of the butter and then add the lemon juice, wine, the reserved lemon halves, 1/2 teaspoon salt, and 1/4 teaspoon pepper. Boil over high heat until reduced in half, about 2 minutes. Off the heat, add the remaining 2 tablespoons of butter and swirl to combine. Discard the lemon halves and serve 1 chicken breast on each plate. Spoon on the sauce and serve with a slice of lemon and a sprinkling of fresh parsley.
Sauteed Broccolini
1 bunch broccolini
Kosher salt
2 tablespoons unsalted butter
1/2 lemon, zested (I left this out - I'm not a fan of zest)
1 teaspoon minced garlic
1 tablespoon lemon juice
1/4 teaspoon freshly ground black pepper
Blanch the broccolini in a large pot of boiling salted water for 2 minutes. Drain immediately and immerse in a bowl of ice water.
Melt the butter in a large saute pan. Add the lemon zest and garlic and stir. Drain the broccolini and add it to the garlic mixture and heat for 2 minutes. Add the lemon juice, 1/2 teaspoon salt and the pepper, and toss well before serving.