I saw this recipe in an issue of Gourmet Magazine and it sounded delicious. However, it also sounded like it was lacking something - cheese. Don't au gratins mean cheese??? I thought scalloped potatoes were the ones without cheese and au gratin were the ones with cheese? Can anyone shed some light on this culinary dilemma? Either way, no matter what the rules, I'd probably add cheese. Which is what I did here.
The original recipe doesn't call for any cheese but I added about a cup of grated sharp cheddar cheese and then sprinkled the top of the gratin with a generous handful of grated romano cheese. So if you're a cheese ADDICT like myself, then do what I did. But if not and you're one of those fools trying to watch your calories and fat intake blah blah blah...then follow the regular recipe. (wink wink). I'm just kidding! I'm just jealous that people actually have that much self-control because I am thankful every day that I'm not lactose intolerant. So bring on the cheese and potatoes! This Mexican-style au gratin is the perfect accompaniment to fish, chicken or beef. Enjoy!
Poblano Potato Gratin
source: Gourmet Magazine
1.5 lbs fresh poblano chiles (about 5)
1 lb onions
1 tbsp vegetable oil
3 lbs large Yukon Gold potatoes
1.5 cups heavy cream
3/4 cup whole milk
Roast chiles and make rajas. Roast chiles on their sides on racks of gas burners (or on the grill. Grill on high and turn with tongs until skins are blackened all over.)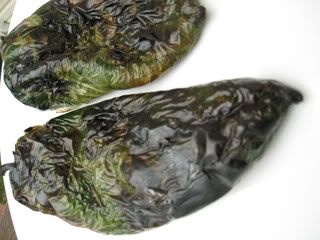 About 10 minutes. Immediately transfer to a bowl, cover with plastic wrap and let sit for 10 minutes. When chiles are cool enough to handle, peel or rub the skin off. Slit the chiles lengthwise, stem, seed and devein them, then cut into strips.
Cook onions in 1 tsp salt and your vegetable oil over medium-low heat until golden, about 8 minutes. Stir in your strips of poblano peppers and remove from the heat.
Make gratin. Preheat the oven to 400 degrees with the rack in middle. Generously butter a 3-qt shallow baking dish. Peel the potatoes and cut them into 1/16 inch thick slices with a slicer. Transfer to a small heavy pot. Add cream, milk and 1 tsp salt and bring just to a boil over medium heat, stirring occasionally.
If you're using a cup of shredded cheddar, stir it in at this point along with your "rajas mixture" (poblano and onions), then pour evenly into your baking dish. Sprinkle the top with grated romano cheese, if using, and bake until potatoes are tender, 45 minutes to 1 hour.
Let stand 15 minutes before serving.