I saw this recipe in my latest issue of Rachael Ray magazine and it looked so delicious. I love traditional stuffed peppers and this was a twist on that. This could easily be made vegetarian if you prefer too. I love the combination of the beans, salty prosciutto (I used that instead of Canadian bacon), and creamy mozzarella cheese. This was easy to prepare and makes either a great side dish or a main course, depending on how hungry you are! Enjoy!
Pork-and-Beans Stuffed Peppers
Source: Rachael Ray Magazine
4 bell peppers, tops sliced off and reserved, ribs and seeds discarded
(This would have easily filled 5 peppers if you add the extra cheese, the onion and use canned tomatoes instead)
3 tablespoons extra-virgin olive oil
Salt and pepper
1/4 pound Canadian bacon, chopped
(I crisped up a package of prosciutto instead)
3 cloves garlic, chopped
1 small sweet onion, diced
1 teaspoon dried oregano
(I had fresh basil and oregano on hand, so I used about a handful of a combo of both)
One 15-ounce can cannellini beans, rinsed
2 tomatoes, chopped
(I used a standard can of Fire Roasted Diced Tomatoes)
4 ounces mozzarella cheese, cut into cubes (about 1 cup)
(I used 8 oz)
1/2 cup breadcrumbs
1. Preheat the oven to 350°. Rub the peppers with 2 tablespoons olive oil; season with salt and pepper. Stand in a baking dish, cover with the tops and roast for 30 minutes.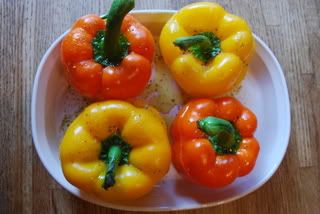 2. Meanwhile, in a medium skillet, heat 1/2 tablespoon olive oil over medium heat. Add the bacon and cook until browned, about 4 minutes; transfer to a medium bowl. In the same skillet, heat the remaining 1/2 tablespoon olive oil. Cook the garlic and oregano until fragrant, about 2 minutes; stir into the bacon along with the beans, tomatoes, mozzarella and breadcrumbs. Season with salt and pepper.
3. Fill the peppers with the bean mixture; return to the oven and heat through, about 15 minutes. Set the tops into place.