I'm not much of a baker, but I love making brownies. Brownies and cookies. Why? Well, I find them fairly easy, not real fussy and there's no decorating involved. Well, for the most part. You just whip them up, pour them out and bake. Or in a cookie's case roll them into balls and bake.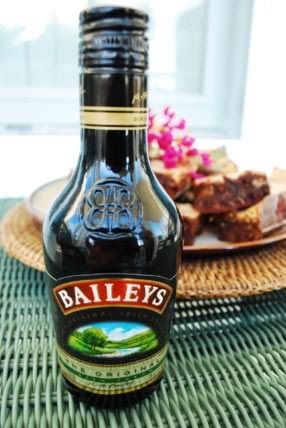 See, I'm left-handed so I've never been real adept with certain skills. I'm dangerous with scissors, awful with a paintbrush, and worse with a sewing needle. My handwriting is atrocious and so I turn to a computer every chance I get. It's almost embarrassing for me to have someone watch me write something down. I appear illiterate or dyslexic! No joke. This gauche characteristic has probably contributed to my lack of patience for any handiwork that is detail oriented. I was never good with coloring books as a kid or even decorating Christmas cookies. I just wanted to finish those tasks as quick as possible before anyone realized how bad I actually was. Oh well.
Surprisingly enough I have been able to wrangle some knife skills somewhere along the line. Although my husband
did
bring home a huge box of bandaids for me to keep in the kitchen because I knick myself so much. Battle wounds. So you can see why I'm not much of a cake baker or anything that requires a lot of handiwork. I stick to the casual desserts.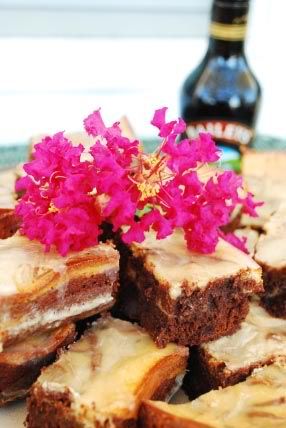 And you can never run out of varieties for brownies and cookies. I found these Bailey's Cream Cheese Brownies on
Culinary Concoctions by Peabody
. When I'm looking for an interesting dessert I always check her site archives. I find her baked goods delicious and not too entirely intimidating to make - well, again, for the most part. She does make some gorgeous creations that I wouldn't bother with because, as stated, I'm not the decorating type. But honestly, who needs decorations when you have Baileys and chocolate?? Not me! These were fudgey, rich and delicious. And so easy to make even a lefty can do it. Enjoy!
Baileys Irish Cream Cheese Brownies
source: Culinary Concoctions by Peabody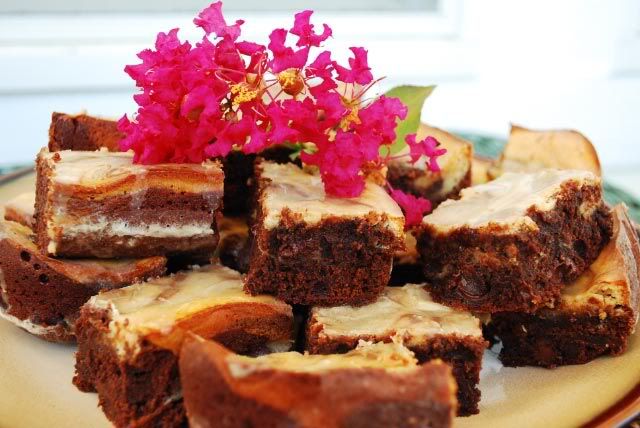 For the Swirl:
3 ounces cream cheese, room temperature
2 TBSP unsalted butter, room temperature
¼ cup sugar
1 large egg
1 TBSP all purpose flour
2 TBSP Bailey's Irish Cream
For the Brownies:
6 ounces sweet baking chocolate (I used semisweet), chopped
3 TBSP unsalted butter, room temperature
½ cup sugar
2 large eggs
½ cup all purpose flour
½ tsp baking powder
¼ tsp salt
2 tsp vanilla extract
1 cup semisweet chocolate chips
For the Glaze:
4 ounces sifted powdered sugar
1 TBSP Bailey's Irish Cream
milk to thin out (amount will vary)
Preheat oven to 350°F. Lightly butter 8-inch square nonstick baking pan. Using electric mixer, beat cream cheese and butter in medium bowl until light and fluffy. Gradually add sugar and beat until well blended. Beat in egg. Mix in flour, Irish Cream, and vanilla. Set mixture aside.
Stir baking chocolate and butter in heavy small saucepan over low heat until smooth. Cool slightly. Using electric mixer, beat sugar and eggs in large bowl until slightly thickened, about 2 minutes. Mix in flour, baking powder and salt. Mix in chocolate mixture and extracts. Stir in chocolate chips.
Spread half of chocolate batter (about 1 1/4 cups) in prepared pan. Using rubber spatula, spread cream cheese mixture over chocolate batter. Spoon remaining chocolate batter over top of cream cheese mixture. Using tip of knife, gently swirl through batter, forming marble design. Bake brownies until tester inserted into center comes out with a few moist crumbs attached, about 30 minutes.
Make glaze. Combine powdered sugar and Irish cream. If too thick thin out with milk.
While still warm brush (using a pastry brush) glaze over brownies. Let sit for 15 minutes. Cut into squares.