What a great choice for the last summer month of
Barefoot Bloggers
!
If it weren't for the rum, this drink would actually be 100 percent good for you. It's packed with fresh fruit, juicy mango, ripe bananas and fresh-squeezed lime juice combine with simple syrup, rum and ice to create a frosty, refreshing summer cocktail. I loved this recipe! It was easy and tasty and a little bit naughty, thanks to the rum.
I bought pre-cut mango chunks in the produce aisle of my grocery store because I'm seriously challenged when it comes to cutting mangos. That skinny, sideways pit always throws me off, not to mention the slippery flesh sliding through my hands as I'm trying to cut off the skin. A guy I know who is originally from Barbados can slice up a mango in seconds! I wish I had his skills. But until then, I'll buy the precut mango. I combined my fruits with Captain Morgan's Spiced Rum cause that is my favorite rum of choice.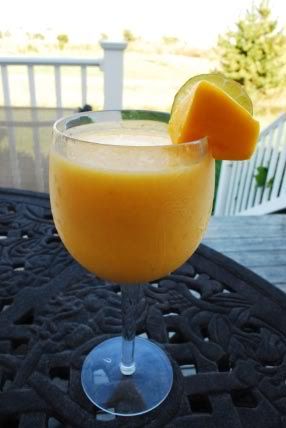 If I made this again, which believe me I will, I think I'd swap out the banana for strawberries. Or maybe even add strawberries along with the banana. For some reason, I really thought strawberries should have been involved.
Mango Banana Daiquiris
source: Ina Garten, Barefoot Contessa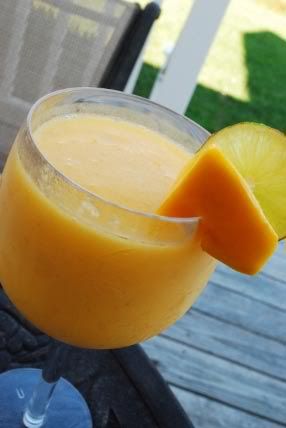 2 cups chopped ripe mango (1 to 2 mangos, peeled and seeded)
1 ripe banana, chopped
1/2 cup fresh squeezed lime juice (4 limes)
1/4 cup sugar syrup*
1 1/4 cups dark rum, such as Mount Gay
Mango slices, for serving
Place the mango, banana, lime juice, sugar syrup, and rum in a blender and process until smooth. Add 2 cups of ice and process again until smooth and thick. Serve ice-cold in highball glasses with the mango slices.
*To make simple syrup, heat 1 cup sugar and 1 cup water in a small saucepan until the sugar dissolves. Chill.