I have chives growing like crazy in a pot on my patio and needed to find another way to use them up. So I came up with these cheddar and chive potatoes.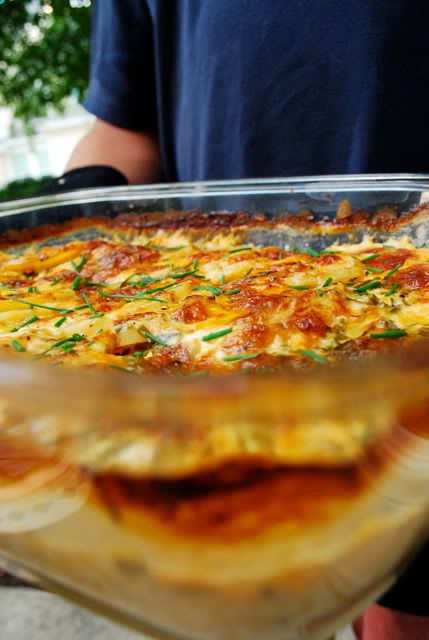 This isn't a completely original recipe I'm sure - it just follows your basic au gratin rules. This was easy to put together and yummy. In addition, it served it's purpose in using up some of my chives.
Enjoy!
Cheddar & Chive Au Gratin Potatoes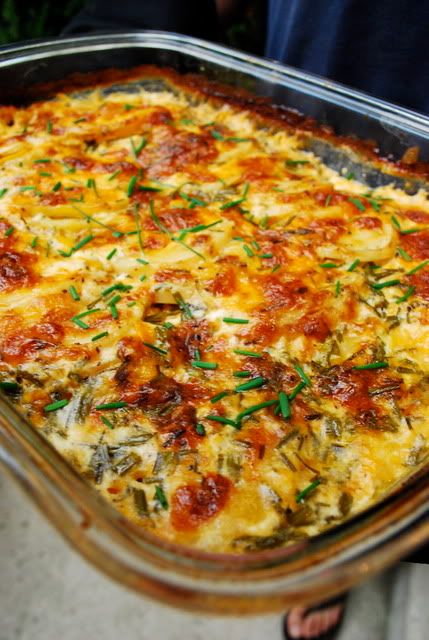 4 yukon gold potatoes
1/4 cup chopped chives (I really used 1/2 just because I had it but that might be a little much for most normal people)
2 cups shredded cheddar cheese
2 cups milk (use whole if you can stomach the extra calories - it works the best)
2 tablespoons heavy cream
1/4 cup parmesan cheese
salt and pepper
Preheat oven to 375 degrees. Slice the potatoes very thin - like 1/4 in. thick. Mix them with the remaining ingredients except for the heavy cream and parmesan cheese, then season with salt and pepper. Lay then in a baking dish and cover with the heavy cream and then sprinkle with the parmesan cheese. Bake for 45 minutes to an hour until golden brown and bubbly. Remove and let cool. Cut some fresh chives over the top to add some freshness and serve.