I'm actually on time with a
Barefoot Bloggers
for once!! This has been a rare occurrence lately. I haven't had time to do much cooking this summer. My parents have a beach house so we've been trekking off to it every weekend and have made a lot of quick grilling meals and dinners out. On top of that, I've been doing some freelance work while in town so my evenings are pretty busy after work as well. I'm glad that I got to make this pizza though.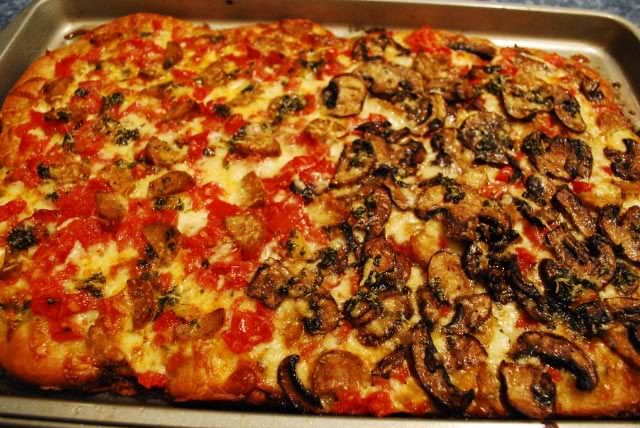 I made a lot of changes however. For one, I used store-bought pizza dough. I just didn't feel like making dough from scratch and the premade doughs in the grocery store now a days are pretty good. I bought a whole wheat dough and rolled it out onto a square pan.
Secondly, I was making this for a small crowd down at our beach house. I didn't think everyone would be a big fan of the whole salad on top of a pizza idea. To be honest, it's not really my thing either. I've had it before in restaurants and I think I prefer to eat my salad in a bowl alongside my pizza.
So I topped it with chopped fresh garden tomatoes, sauteed baby bella mushrooms and sliced soy-sage. Yes you read that right - tofu meat product. One of my friends eating with us was a vegetarian so I figured I'd whip out the fake meat products for her. It was actually pretty good. If sliced thinly, soy-sage crisps up on a pizza similar to pepperoni. Well, maybe not THAT similar, but a good enough substitute.
I also used a handful of fresh oregano instead of thyme in the garlic oil because I have tons of oregano on hand. I think I remember Ina saying in a show once that she doesn't like fresh oregano, but I absolutely love it and it was a great compliment for this pizza. That garlic oil and cheese combo made this pizza out of this world. It was so good! Between the five of us we finished the entire pizza. It was hard to stop eating! Ina hits a home run again and in turn, so did I. Enjoy!
White Pizza with Chopped Tomatoes, Sauteed Mushrooms and Soy-sage
source: adapted from Ina Garten, Barefoot Contessa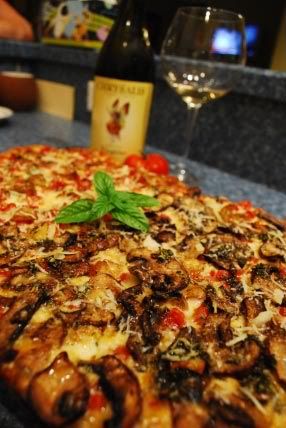 1 1/4 cups warm (100 to 110) water
2 packages dry yeast
1 tablespoon honey
Good olive oil
4 cups all-purpose flour, plus extra for kneading
Kosher salt
4 cloves garlic, sliced
1/2 cup chopped fresh oregano
1/4 teaspoon crushed red pepper flakes
(Or buy pre-made pizza dough from the refrigerated section of your grocery store. Mine comes in a plastic bag and can easily be grilled or baked.)
For the topping:
3 cups grated Italian fontina cheese (8 ounces)
1 1/2 cups grated fresh mozzarella cheese (7 ounces)
11 ounces creamy goat cheese, such as montrachet, crumbled (I omitted this and substituted freshly grated parmesan cheese)
2 large garden tomatoes, chopped
1 pint of baby bella mushrooms, sauteed
1 to 2 links of soysage, sliced thin
Directions
Mix the dough.
Combine the water, yeast, honey and 3 tablespoons of olive oil in the bowl of an electric mixer fitted with a dough hook. When the yeast is dissolved, add 3 cups of flour, then 2 teaspoons salt, and mix on medium-low speed. While mixing, add up to 1 more cup of flour, or just enough to make a soft dough. Knead the dough for about 10 minutes until smooth, sprinkling it with the flour as necessary to keep it from sticking to the bowl.
Knead by hand.
When the dough is ready, turn it out onto a floured board and knead it by hand a dozen times. It should be smooth and elastic.
Let it rise.
Place the dough in a well-oiled bowl and turn it to cover it lightly with oil. Cover the bowl with a kitchen towel and allow the dough to rise at room temperature for 30 minutes.
Make garlic oil.
Place 1/2 cup of olive oil, the garlic, a handful of oregano and red pepper flakes in a small saucepan and bring to a simmer over low heat. Cook for 10 minutes, making sure the garlic doesn't burn. Set aside.
Preheat the oven to 500 degrees. (Be sure your oven is clean!)
Portion the dough.
Dump the dough onto a board and divide it into 6 equal pieces. Place the doughs on sheet pans lined with parchment paper and cover them with a damp towel. Allow the dough to rest for 10 minutes. Use immediately, or refrigerate for up to 4 hours.
Stretch the dough.
Press and stretch each ball into an 8-inch circle and place 2 circles on each sheet pan lined with parchment paper. (If you've chilled the dough, take it out of the refrigerator approximately 30 minutes ahead to let it come to room temperature.)
Top the dough.
Brush the pizzas with the garlic oil, and sprinkle each one liberally with salt and pepper. Sprinkle the pizzas evenly with fontina, mozzarella and other toppings. Drizzle each pizza with 1 tablespoon more of the garlic oil and bake for 10 to 15 minutes, until the crusts are crisp and the cheeses begin to brown.