I want my baby back, baby back, baby back, I want my baby back, baby back, baby back, I want my baby back, baby back, baby back...BAY-BEEEEEE BABY BACK RIBS!!! Don't you just picture fat bastard from Austin Powers singing this little diddy as he eyed up mini-me?? That is the image that comes into my head when I think of baby back ribs. That and the old Chili's commercial, if anyone remembers that. I found this rib recipe in an old issue of Rachael Ray's magazine. I liked that these were dry ribs - still messy, but not as messy as wet ribs. Plus, I'm not a huge fan of barbeque sauce so dry ribs are much more my speed.
This was the first time I have ever made ribs and I think they turned out pretty well! I even used the leftover meat to make a Mexican-style macaroni and cheese. Delish! Unfortunately, I didn't have my camera around to photograph that. But here's the link to the recipe if you're interested
Austin Mac n' Cheese Suiza
- I followed it to the letter, just added shredded rib meat.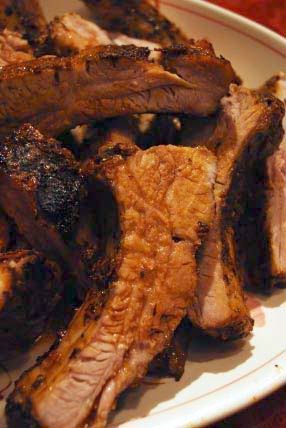 But back to the meat. The spice rub forms a flavorful crust on these juicy ribs. The cooking time might be a bit steep - I found some of them a little dry. I think you could safely cut the cooking time short by a half hour since they continue to carryover cook after leaving the oven. The sauce is quite sweet and almost ketchupy - I didn't really care for it but it wasn't too bad. In my opinion though, the ribs don't need any sauce. The spices add enough flavor. Enjoy!
Memphis-Style Baby Back Ribs
source: Rachael Ray Magazine
2 teaspoons sweet paprika
2 teaspoons chili powder
1 teaspoon garlic powder
1/2 teaspoon dried oregano
Salt and pepper
2 racks pork baby back ribs (about 5 pounds total)
Two 8-ounce cans tomato sauce
1/2 onion, finely chopped
6 tablespoons apple cider vinegar
3 tablespoons brown sugar
1/2 teaspoon hot pepper sauce
Preheat the oven to 275°. In a small bowl, whisk together the paprika, chili powder, garlic powder, oregano, 1 tablespoon salt and 1 teaspoon pepper. Run a paring knife down the length of the bone side of each rack to split the skin, then season all over with the rub.
Arrange the ribs, meaty side down, in a single layer on a baking sheet. Roast, turning halfway through, until very tender, about 3 hours.
Meanwhile, in a small saucepan, bring the tomato sauce, onion, vinegar, brown sugar and hot sauce to a boil. Lower the heat and simmer until thickened, about 10 minutes. Season with salt and pepper. Cut the racks into individual ribs and serve with the sauce on the side.