Well, as much as I've been hoping for cool fall weather, it's been hotter lately than most of the summer was here in Maryland. But last Friday morning, it started out rainy and chilly. So I went to the grocery store and bought all the ingredients for White Bean Chicken Chili.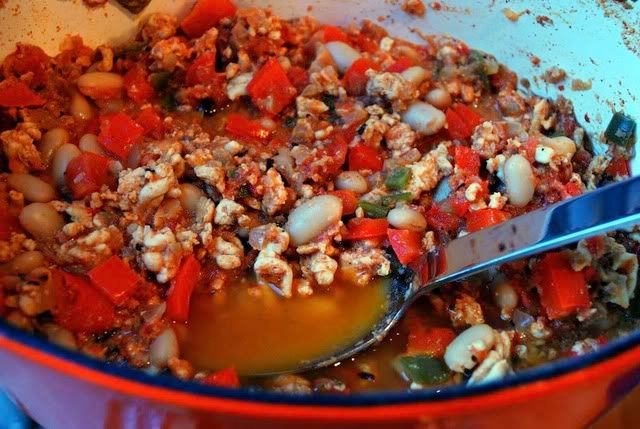 I pictured a cozy evening with the hubs, parked in front of the tube, chowing down bowls of warm chilly while the cool rain fell outside. Well, wouldn't you know that at 2 p.m. the sun came out and the temps skyrocketed to about 83 degrees. It turned into a beautiful day! And one that wasn't exactly perfect for chili. Nonetheless, I had bought all the ingredients so what was a girl to do but just make the chili?? So that's what I did. It was tasty, but one bowl was more than enough since it was too hot to fill up on anything except ice water. Enjoy!
White Bean Chicken Chili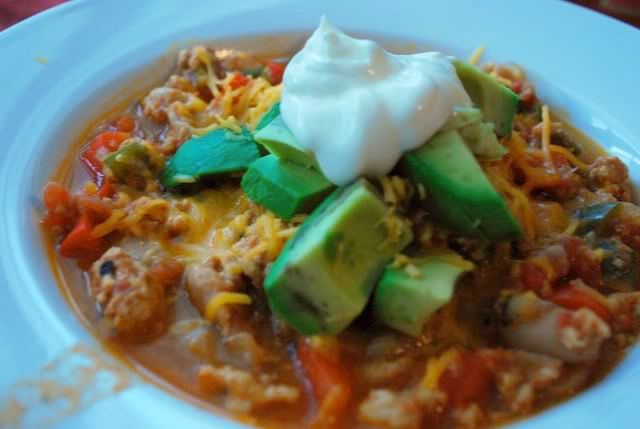 1 small onion, diced
1 green pepper, diced
1 red pepper, diced
3 cloves garlic, minced
1 tablespoon chili powder
1 teaspoon cumin
pinch of cardamom
pinch of allspice
2 tablespoons olive oil
1 lb ground chicken meat
1 can white cannelini beans, drained
1 can of fire roasted diced tomatoes
1/2 bottle of beer (I used Corona)
salt and pepper
Garnish:
chopped avocado
sour cream
shredded cheddar
In a soup pot or dutch oven, pour in your olive oil along with your diced veggies and garlic. Saute until tender. Add your spices and chicken meat. Cook until meat is well browned.
Add in your beans, tomatoes and beer. Season with salt and pepper and bring to a boil. Turn down to a simmer and let it stew for 30 minutes on low heat. If it's too runny you can add a little cornstarch or tomato paste to thicken it up. Once ready, serve in bowls and top with garnish.