After a long, invigorating hike along the Kadunce River, we all figured we earned ourselves a nice, hearty lunch. The Pie Place fit the bill.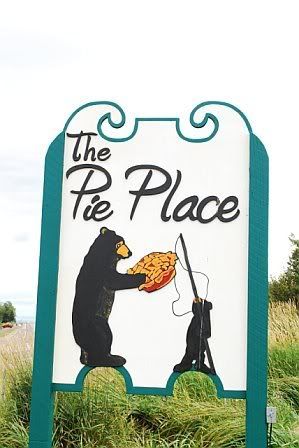 Modest, homemade food and a delicious assortment of fresh baked pies for dessert. From fruit pies - cherry, berry, apple, peach and rhubarb to cream pies filled with banana, coconut, rum raisin and lemon meringue. And even that southern favorite maple pecan pie found it's way onto their menu. But we had to eat some real food before we could pick out our pie.
For me I ordered the Mexican corn soup and the Landslide Special - which consisted of a small salad and a tomato and goat cheese quiche with fresh basil. The soup was spicy and chock full of juicy, sweet corn kernels. A great way to warm up after hiking on that damp morning.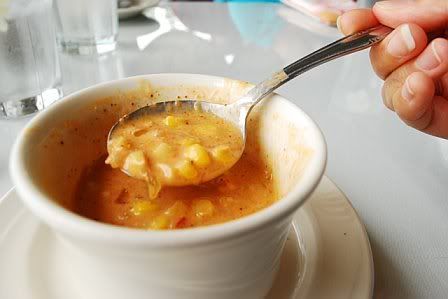 The quiche was light and fluffy with just the right amount of tomato and goat cheese. It also gave me a sneak peek at the flaky, buttery pie crust that is used for the dessert pies as well as the savory pie.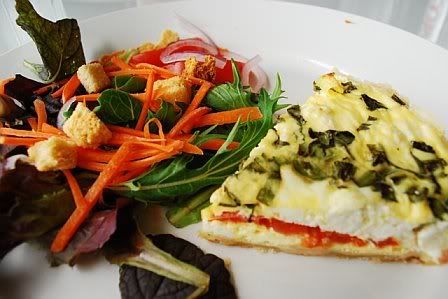 Then came the fun part. We each ordered a different type of pie and then went round with all our forks. And we had to order everything a la mode because you need vanilla ice cream with warm fruit pie.
I ordered the cherry praline pie - bright red cherries sat underneath a crunchy sweet praline crumb topping. I finished every bite.
The dutch apple crumb pie was just like grandmom used to make. Sweet apples, lots of crumbly topping and a nice scoop of ice cream melting down on top.
The mixed berry pie sported blueberries, blackberries and raspberries if I remember correctly. It actually ended up being my favorite because it was sweet and tart - a great combination. The three berries blended nicely and left you with a party of flavors.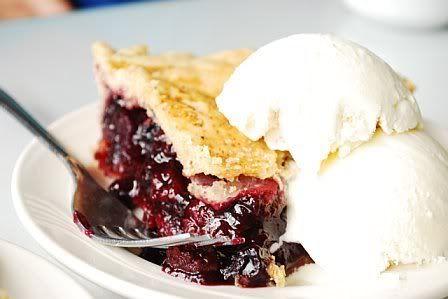 Finally, my friend Kathie ordered the Maple Pecan Pie. She had been thinking about it all morning long on the hike. Then when we got to the Pie Place, it was the first question she asked our server, who told her that unfortunately they didn't have the maple pecan pie ready for lunch that day. She was crushed! Then he returned saying they had just taken it out of the oven so perhaps they would be ready for serving once lunch was finished. Fortunately for Kathie, the pie had cooled enough for them to serve her a much anticipated piece.
It was quite sweet and buttery, but had a nice layer of crunchy pecans. I'm not a huge pecan pie fan, but as far as pecan pies go it was pretty good. And Kathie was very happy she got the pie she hiked so long for.
Here's a pic of Kathie with her piece - look at that grin: