So for my birthday this year, I wanted to cook. I've been so busy during the week and even on the weekends lately that I haven't gotten many chances to just spend the day cooking! For that reason, I created a labor-intense menu for my birthday dinner and had my family enjoy the fruits of my work!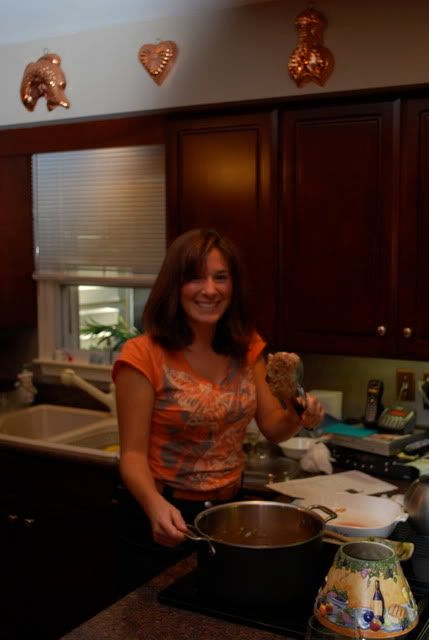 The menu consisted of:
Homemade Ricotta Gnocchi with Pesto Sauce
Osso Buco
Grilled Asparagus
Green Salad
Homemade Apple Pie with Homemade Cinnamon Ice cream
It was decadent and delicious! Everything turned out perfectly and I got to spend the day doing what I love. Unfortunately, my photos aren't that great since I was working by myself to finish everything. It's hard to get pictures of gnocchi during the creation stage when your hands are covered with flour. But these shots give you an idea. This was the first time I worked with veal shanks and I was kind of intimidated by Osso Buco. It was fairly easy to make however! And almost impossible to screw up. You're kind of braising the meat so no matter what it's tender and juicy. And the ricotta gnocchi were a great compliment to the meal. Light and fluffy and the pesto added a nice bite. Hope these dishes find their way to your birthday celebration table! Enjoy!
Osso Buco
source: Food Network, Giada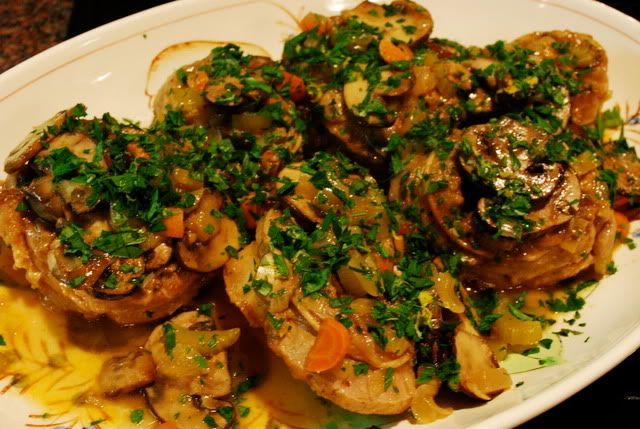 1 sprig fresh rosemary
1 sprig fresh thyme
1 dry bay leaf
2 whole cloves
Cheesecloth
Kitchen twine, for bouquet garni and tying the veal shanks
3 whole veal shanks (about 1 pound per shank), trimmed
Sea salt and freshly ground black pepper
All purpose flour, for dredging
1/2 cup vegetable oil
1 small onion, diced into 1/2-inch cubes
1 small carrot, diced into 1/2-inch cubes
1 stalk celery, diced into 1/2 inch cubes
1 container of baby bella mushrooms, sliced (my addition)
1 tablespoon tomato paste
1 cup dry white wine
3 cups chicken stock
3 tablespoons fresh flat-leaf Italian parsley, chopped
1 tablespoon lemon zest
Directions
Place the rosemary, thyme, bay leaf and cloves into cheesecloth and secure with twine. This will be your bouquet garni.
For the veal shanks, pat dry with paper towels to remove any excess moisture. Veal shanks will brown better when they are dry. Secure the meat to the bone with the kitchen twine. Season each shank with salt and freshly ground pepper. Dredge the shanks in flour, shaking off excess.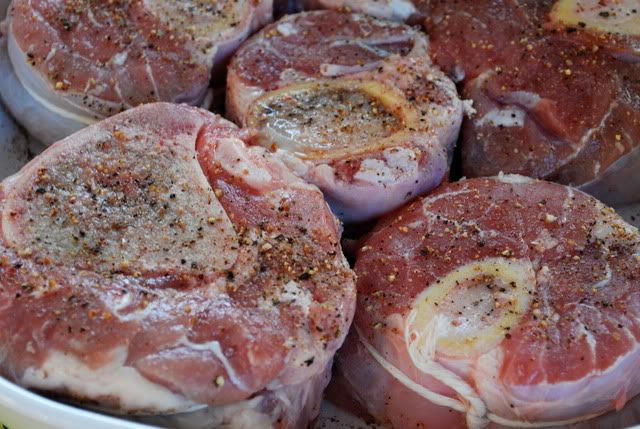 In a large Dutch oven pot, heat vegetable oil until smoking. Add tied veal shanks to the hot pan and brown all sides, about 3 minutes per side. Remove browned shanks and reserve.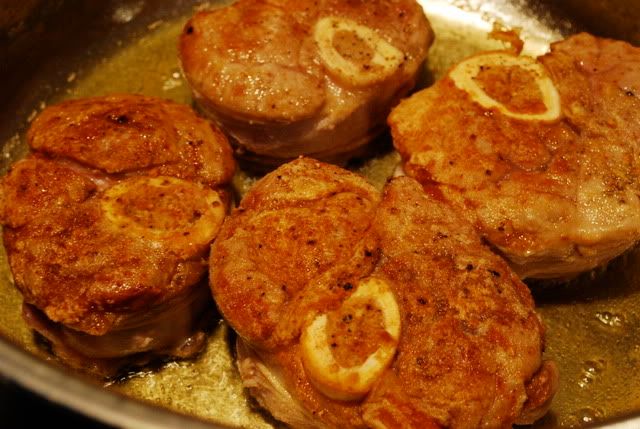 In the same pot, add the onion, carrot and celery. Season with salt at this point to help draw out the moisture from the vegetables. Saute until soft and translucent, about 8 minutes. Add the tomato paste and mix well. Return browned shanks to the pan and add the white wine and reduce liquid by half, about 5 minutes. Add the bouquet garni and 2 cups of the chicken stock and bring to a boil. Reduce heat to low, cover pan and simmer for about 1 1/2 hours or until the meat is falling off the bone. Check every 15 minutes, turning shanks and adding more chicken stock as necessary. The level of cooking liquid should always be about 3/4 the way up the shank.
Carefully remove the cooked shanks from the pot and place in decorative serving platter. Cut off the kitchen twine and discard.
Remove and discard bouquet garni from the pot.
Pour all the juices and sauce from the pot over the shanks. Garnish with chopped parsley and lemon zest.
Ricotta Gnocchi
Source: Elodia Rigante's Italian American Cookbook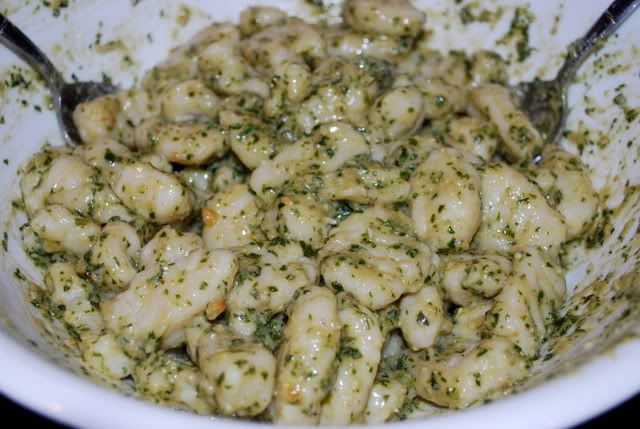 2 cups ricotta
2 eggs, beaten
4 cups flour
salt and pepper
more flour for rolling
Combine the ricotta with the beaten eggs. Season with salt and pepper. Gradually mix in the flour until it forms a thick dough.
Flour your working surface and roll the dough out to about 1 in thick. Then with a knife or a pizza cutter cut the flattened dough into 1 in wide strips.
Then cut 1 inch cubes out of the strips. The cubes will be your gnocchi.
You can either thumbprint them or you can roll an indentation on them using the back of a fork. Place the base of the tonged part of the fork on top of a gnocchi cube, then pull it toward you to roll it and create lines.
Place the gnocchi on a baking sheet in a single layer - if you pile them in a bowl or on top of each other they will stick together. Refrigerate covered until you're ready to boil them. At this point you can also freeze them, while flat on the pan, and then when they are frozen put them in a plastic ziploc bag for storage.
If you are going to cook them though, prepare a pot of salted water to boil. Once boiling throwin your gnocchi. They will cook for 8 to 10 minutes, until all the little pillows have floated to the top of your boiling water. Remove and serve with your favorite sauce.