I know these are a bit late, since Halloween is now over, but I just had to share because they were so tasty. Be warned though, eating too many pumpkin seeds may do a number on your stomach.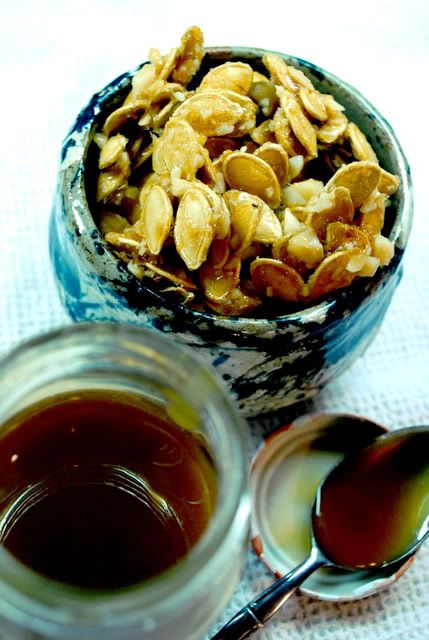 I found the hulls a bit rough to digest even though they are edible - and these sticky little morsels are so easy to overindulge on that you may find your stomach seed-filled before you know it. I thought this was a great alternative to traditional roasted pumpkin seeds and I'll definitely be making this easy recipe again next year. And I have to say, I normally don't find many of Sandra Lee's Semi-Homemade recipes enticing, but once in a while she has a zinger that really intrigues me. This is one of those times and I'm glad I went with my instincts on this one. Sandra hit a semi-homemade home run here. Enjoy!
Caramelized Pumpkin Seeds
Sandra Lee, Semi-Homemade, www.foodnetwork.com
1/2 cup butterscotch caramel sauce
1 cup brown sugar
1 teaspoon cinnamon extract
1/2 teaspoon cayenne pepper
3 cups pumpkin seeds, roasted
1 cup almonds, crushed (I used macadamia nuts because it's all I had around)
Lightly coat baking sheet with cooking spray and set aside.
In a large skillet, slowly melt the caramel sauce and sugar. When melted stir in cinnamon extract and cayenne. Continue cooking until mixture reaches a temperature of 310 degrees F. Stir in pumpkin seeds until completely coated. Spread caramelized seeds onto the baking sheet and sprinkle with crushed almonds. Separate seeds with wooden spoon until cooled.
Cook's Notes:
Melted sugar is very hot. Please use extreme caution when handling and pouring. Pumpkin seeds may be purchased already roasted. If using the seeds from a jack-o-lantern, rinse and clean seeds. Place on a baking sheet, lightly coated with cooking spray, in a preheated 250 degree F oven. Roast seeds for about 1 hour stirring every 15 minutes. The actual seed of the pumpkin is inside the hull. The hull is edible.