This recipe reminds me of that famous Marlon Brando line from
On The Waterfront
, "I coulda been somebody. I coulda been a contender!". Just picture this cute little loaf in a leather jacket sitting on a motorcycle.
Why do I say this? Well, because this recipe had a lot of potential but it just quite didn't make the grade. The bread was moist and the coconut flavor was there, but I found it to be way to subtle. I had to think really hard to taste coconut, and that's even after I poured in an extra cup of shredded coconut into the batter! I think it could have benefitted from some more coconut and maybe even a dash of coconut extract or maybe Malibu coconut rum if you're feeling crazy?
On top of that, this bread recipe didn't call for any spices. Not a speck of spice in site! For a pumpkin bread, I found this really odd. Unfortunately, I didn't really think about how odd until after it was baked and I tasted how bland it was. The bread could have been a hundred times better with a few teaspoons of nutmeg, cinnamon and pumpkin pie spice. Nothing brought out the great pumpkin flavor. So overall, I would say this bread could have been so much better.
Pumpkin Coconut Bread
Coconut and Lime Blog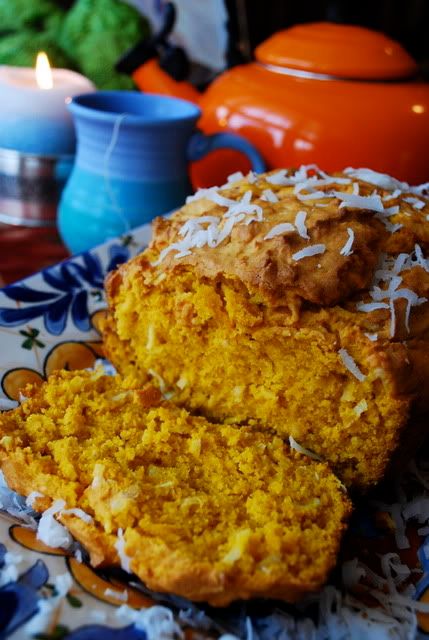 Click to Go to Original Recipe