Happy Belated Thanksgiving!! I hope everyone had an enjoyable day full of good friends, family and food. We have a lot to be thankful for. Speaking of which, here's a pic our little turkey, whose been roasting for 16 weeks now!!
And just because it's too cute to pass up, I'm sneaking in a pic of our little nephew in his very festive turkey day shirt.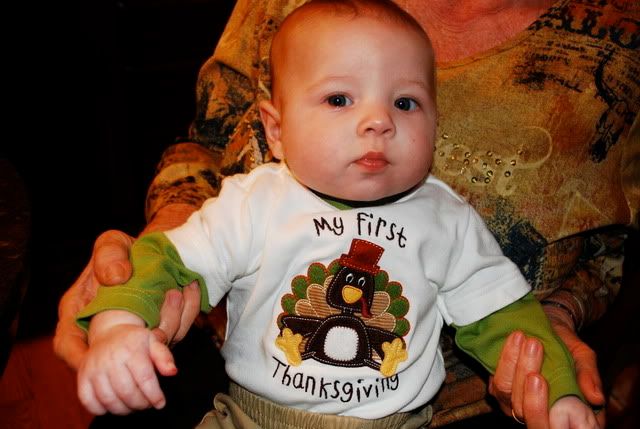 Ok now on to the task at hand!
In addition to the traditional pumpkin pies we baked this season, I wanted to try something a little different. Despite everyone saying they couldn't find pumpkin puree, I never had a problem! In fact, I bought so much I had to find ways to use it. This
Pumpkin Pie Ice Cream
was the perfect fit. I love both ice cream and pumpkin pie so what could be better than the combo?? This tastes exactly like pumpkin pie - except cold and without the crust. It might be fun to serve this in a twill cookie cup or in a cone to give you that "crusty" taste with it. I just ate it straight and it was just delicious and refreshing. While this recipe calls for tons of half and half and heavy cream, I didn't find this ice cream to be too rich. I prefer an ice milk consistency - think Breyers - and I feel like this ice cream had that, while still packing a creamy, flavorful punch. Enjoy!
Pumpkin Pie Ice Cream
Source: The Food Network website
4 cups half and half
2 cups heavy whipping cream
2 vanilla beans
1 1/2 cups white sugar
1/2 cup light brown sugar
7.5 oz canned pumpkin
1 tsp. nutmeg
1 tsp. ground cinnamon
1/2 tsp. ground ginger
1/4 tsp. ground cloves
Directions
Combine all dairy into a saucepan along with the sugar. Split and scrape the vanilla beans into the dairy and sugar mixture. Bring to 170 degrees F. to dissolve sugar then let cool at room temperature. Chill in the refrigerator overnight. While dairy is heating, grate nutmeg into pumpkin and add the other spices. Mix in a bowl to combine and chill overnight in the refrigerator. The next day, take pumpkin and dairy mixture out. Filter dairy mixture to remove large vanilla bean pieces. Add some of the dairy mixture to the pumpkin and mix well to loosen it up. Then mix both the dairy and pumpkin together. Freeze in your ice cream freezer according to the manufacturer's instructions. Let the ice cream harden for at least two hours unless serving all immediately.