For some reason this recipe name makes me want to say... dookey. Dookey dookey dookey! Someone dropped a dookey. Ok it's over. I've got it out of my system. Now on to the serious nature of this delicious recipe.
I saw this on
Smitten Kitchen
blog, who had seen it on
Ask Aida
on The Food Network. The recipe from Aida, basically has you first dunk some chicken skewers in a mixture of dijon mustard and olive oil and then roll them in the dukkah spice blend that has been mixed with shredded Parmesan cheese.
Smitten
found the dukkah crust recipe here at
101 Cookbooks,
since Aida doesn't give you one.
The whole idea intrigued me, the name made me laugh and overall it just sounded like something different. It combines a ton of fragrant spices with toasted hazelnuts to create a dry, thick spice rub for chicken. You encrust the chicken in this spice rub, bake and serve. I found it healthy, tasty and a nice twist on a traditional chicken dinner.
In fact, I even ended up making a batch of dukkah-crusted chicken breasts a few weeks later with the leftover dukkah and put them in paninis with artichoke hearts, spinach and provolone cheese. They were delicious and the combination of the dukkah with spinach, artichokes and cheese was great.
The crust has a decidedly Middle-eastern type of flavor - fennel seeds, coriander, mint and cumin combine with salt, pepper, and sesame seeds. On
Smitten Kitchen
she served it with a balsamic reduction sauce, but I found the chicken stayed quite juicy and the spicy crust provided more than enough flavor.
You can use the dukkah crust as an herb dip with bread as well. Just put a few tablespoons of the dukkah in a bowl and cover with olive oil for dipping pita or fresh baked bread. Enjoy!
Chicken with a Dukkah Crust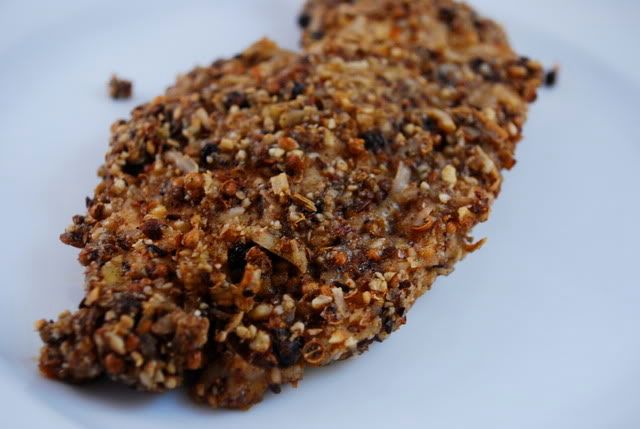 2 tablespoons Dijon mustard
1/4 cup olive oil
24 chicken tenders, also called chicken tenderloins
1 cup Dukkah (recipe below)
1/4 cup grated Parmigiano-Reggiano cheese (Deb note: I skipped this, as a dinner guest does not mix milk and meat)
For the chicken skewers:
1. 24 metal or bamboo skewers (if using bamboo skewers, soak them in water for 30 minutes before using)
2. Heat oven to 350°F.
3. In a shallow bowl, combine the mustard and olive oil, and season well with salt and freshly ground black pepper. Toss the chicken in the mustard mixture until well coated.
4. Combine the dukkah and Parmigiano-Reggiano in a wide, shallow dish and mix thoroughly. Roll each tender in the dukkah mix until well coated.
5. Thread a chicken tender on each skewer. Place the chicken skewers on wire cooling racks. Nest each wire rack in a baking sheet and place in the oven. Bake until the meat is firm and the dukkah crust is golden, about 25 to 30 minutes.
Dukkah Spice Blend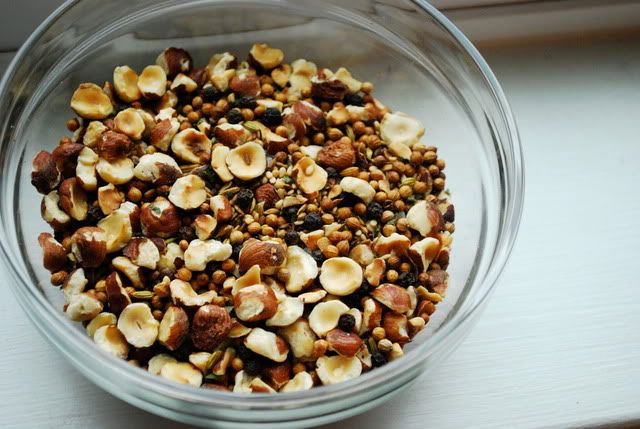 1/2 cup hazelnuts
1/4 cup coriander seeds
3 tablespoons sesame seeds
2 tablespoons cumin seeds
1 tablespoon black peppercorns
1 teaspoon fennel seeds
1 teaspoon dried mint leaves
1 teaspoon salt
Heat a heavy skillet over high heat, add the hazelnuts, and dry-toast until slightly browned and fragrant, being careful that they don't burn. Remove from the heat and cool completely. Repeat the procedure with each of the seeds and the peppercorns. Allow each of them to cool completely.
Place the nuts and seeds, along with the mint and salt, into a mortar and pound until the mixture is crushed. Or pulse in a food processor to a coarse consistency; do not allow the mixture to become a paste.
Store in an airtight container in a cool place for up to 1 month.
Yield: 1 cup.