On Halloween night, my husband and I hid away at my mother's house. Mainly because she gets a limited number of trick-or-treaters (and when I say limited I mean she got about 50 kids), whereas in my neighborhood we get into the 100s. I live in a townhouse community, so it's insane the amount of kids that come knocking on the door. One year we stayed home to give out candy. I probably spent about $60 on candy and ran out in two hours. We then had to hid upstairs with the lights off in the hopes that they would stop ringing the doorbell! In addition to that, opening and closing the door to service these little costumed bands of children is made even that more difficult by the fact that I have three cats. Let me add to that, three cats who like to try to escape every time the front door lingers open. Not a good combination. So, we went to my mother's, handed out candy and cooked up some finger foods to munch on. Among those, was this
Coconut Shrimp
that I found at
Food Network
.
Instead of frying them like the recipe calls for, we baked them. It was less messy and better for you as well. The coconut flavor was perfect and we baked them on 400 degrees for about 20 minutes, until the coconut coating was crisp and beginning to brown.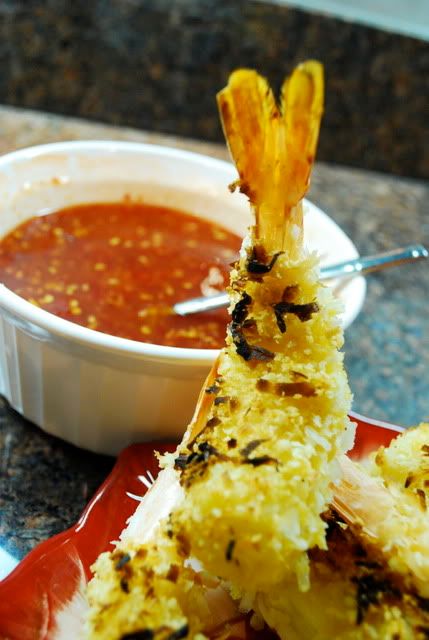 The only thing we really didn't like about this recipe was the accompanying dipping sauce. The orange marmalade was way too potent and just didn't go well with the shrimp. Next time, I may make some kind of pineapple or mango puree sauce instead. Other than that though, the shrimp were crispy and tasty. Enjoy!
Neely's Jumbo Coconut Shrimp
The Neelys, Food Network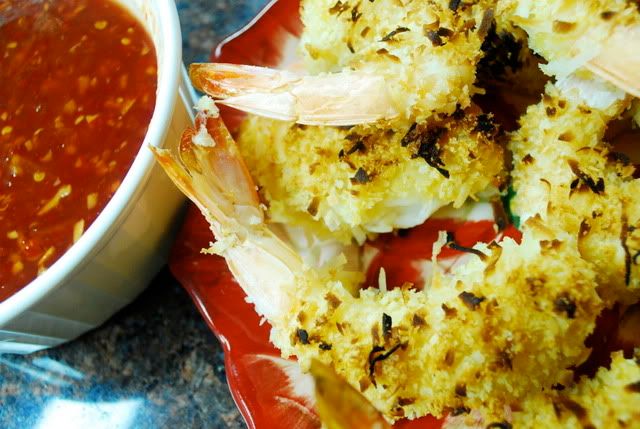 Peanut oil, for frying
1 1/2 pounds jumbo shrimp, peeled and deveined
1 cup panko bread crumbs
1 cup shredded sweetened coconut
4 large eggs
Salt and freshly ground black pepper
1 cup all-purpose flour
1/2 tablespoon onion powder
1/2 tablespoon granulated garlic powder
Zesty Dipping Sauce, recipe follows
Directions
Preheat oil in a deep-fryer to 350 degrees F.
Butterfly shrimp and set aside.
In medium bowl mix together panko and coconut. In another medium bowl beat eggs and dash of salt and pepper. In a third bowl mix flour, onion and garlic powder together. Dredge shrimp in flour, then eggs, then the bread crumbs.
Place in preheated deep-fryer and fry, in batches, until crisp and golden brown; 2 to 3 minutes. Drain on a paper towel-lined sheet tray. Serve hot with Zesty Dipping Sauce on the side.
Zesty Dipping Sauce:
1 (6-ounce) jar orange marmalade
1/4 cup sweet Asian chili sauce
1 lime, juiced
Mix all ingredients in a small bowl.