Or at least that's my husband's health-conscious motto. I swear, this boy goes through sticks. One day I watched him make a grilled cheese sandwich and I literally felt my arteries seize up. So when Jill at Cheesetique talked about making your burgers better with butter, I knew I had to give it a try. The basic concept is pretty simple, make your burgers however you normally do and slap a pat of butter in the middle of your raw burger ball, like so.
Fold the meat over the butter pat, flatten into a patty and throw it on the grill. The idea is that the butter melts and gets distributed evenly through the meat keeping it juicy and making it, well, buttery. In addition to this tip, Jill recommended a unique cheese for topping your burgers rather than the usual suspects of cheddar, American and Swiss. I introduce to you, Leiden.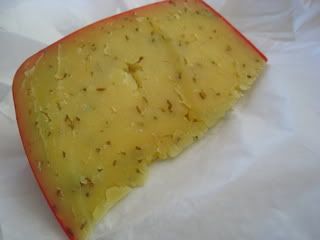 It is similar to Gouda, but is specked with none other than one of my favorite spices, cumin seeds. What's this? A Mexican style cheese for my burgers?? Did I mention I love Mexican flavors? Between the butter and cumin seeds this burger would most definitely satisfy me and the hubs. So I went to work.
Because my cheese was cumin studded, I decided to flavor my burgers with chili powder and garlic powder to enhance that southwest theme. I also added about a tablespoon of Worcestershire sauce, and then seasoned the meat with salt and pepper. I will admit, I overcooked the burgers a bit, or rather should I say they were medium well, because I took too much time prepping for the salad (which was delicious, see below) and forgot about them. I know, bad cook and even worse, bad wife because he's a medium rare burger man. But oh well. They still tasted very good and I will definitely be using this butter trick - and Leiden cheese - again.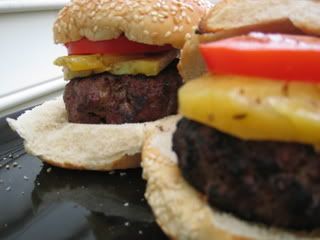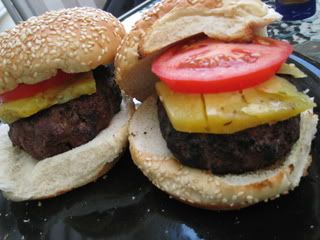 With the burgers we enjoyed a
Grilled Peach and Prosciutto Salad.
It was SO good, it's definitely going into my salad repertoire. The sweetness of the grilled peaches plays well with the salty prosciutto. For crunch I added toasted pecans and to add a bit of tang some Gorgonzola cheese. It's finished off with a basil lemon dressing and some creamy slices of avocado.
I actually created this from a combo of different grilled fruit salads I saw online and in various magazines. I picked from flavors I thought would work and voila, success! This recipe makes enough for two people.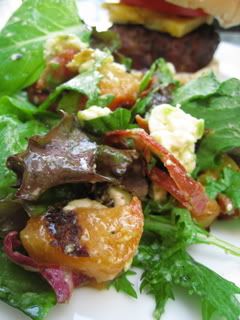 1 peach
3 slices of thinly sliced prosciutto
1/4 cup of whole pecans
3-4 oz of Gorgonzola cheese, crumbled or broken into small chunks
1 avocado
1 bag of triple-washed,field greens lettuce
small handful of shredded fresh basil
juice of half a lemon
1/4 to 1/2 cup olive oil (depending on how lemony you like it)
salt and pepper
Cut your peach in half and remove the pit. The slice each half into two 1-inch thick slices, brush with a little olive oil and place them on a hot grill. After about 3 minutes flip the peaches, they should have golden brown grill marks as the sugars begin to caramelize.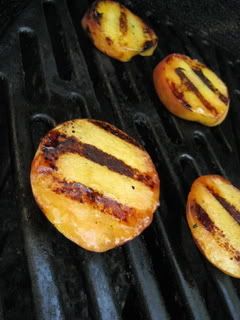 Let them cook on the other side for the same amount of time and remove the from the grill and allow them to cool.
Chop up your prosciutto and place in a small saute pan with a 1/2 teaspoon of olive oil. Over medium heat crisp up your prosciutto in the pan, tossing constantly with a wooden spoon to prevent burning.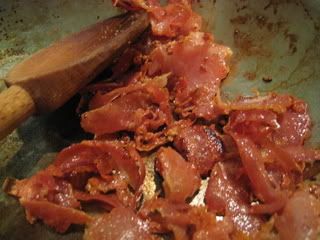 Once it has crisped up, remove the prosciutto from the pan and set aside to cool.
Place your whole pecans in a saute pan over medium heat to toast your nuts. Keep an eye on them and toss them frequently to avoid burning. Once toasted, about 3 minutes, remove from the heat and place aside to cool.
While your peach, prosciutto and pecans cool, chop your Gorgonzola and your avocado however you prefer.
In a small bowl, juice your lemon, whisk in your olive oil and season with salt and pepper to your taste. Add the shredded basil and stir together.
Finally, arrange your lettuce in a bowl, top with the cooled peaches, prosciutto, pecans, chopped avocado and Gorgonzola and toss with your lemon vinaigrette and enjoy!