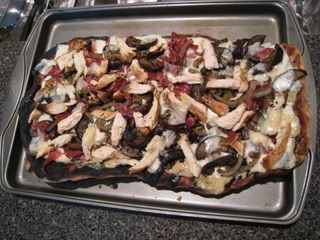 I call this Inspiration Pizza because it was inspired by some leftovers and odds and ends we had in the fridge - a piece of grilled chicken, some roasted garlic, half of a vidalia onion and a package of mozzarella slices. Then I went to the store and picked up some pizza dough (which was a gamble because I'd never tried this particular brand before) as well as an eggplant, some portobello mushroom caps and a package of thinly-sliced procuitto and went to work! I grilled prosciutto as well as the vegetables beforehand, then grilled the fresh pizza dough as well, then topped it with a roasted garlic cream sauce, the cheese, the veggies, the chicken and the crumbled prosciutto. It was one hearty slice of pie!
1 piece of grilled chicken, shredded, sliced or cut into cubes
1 bulb of roasted garlic, removed from the skins and mashed into a paste seasoned with salt, pepper and olive oil
1/2 cup half and half
Small handful of Parmesan cheese
1 tb butter
1 vidalia onion (if you want less onion use half), sliced thin
1 small Japanese eggplant, sliced into medallions or half-moon pieces
2 Portobello mushroom caps, sliced
1 tb fresh rosemary, chopped
1 tb fresh oregano, chopped
1 package of Prosciutto, sliced thinly
1 package of shredded Mozzarella or Mozzarella slices
1 fresh pizza dough
Set the chicken aside for now. Meanwhile, pour the half and half into a small saucepan along with the tablespoon of butter and put over medium heat. Whisk in the roasted garlic paste and Parmesan cheese. When the mixture comes to a boil turn the heat down to low and let it simmer and thicken into a cream sauce on the stove top. Keep whisking to avoid burning and once it thickens take it off the heat and cover.
Preheat your outdoor grill or a grill pan. Toss the sliced vegetables (onion, eggplant and mushrooms) with three tablespoons of olive oil and the chopped herbs. Season with salt and pepper and place on the grill. You may want to use a vegetable basket on the outdoor grill. Grill the vegetables until tender and remove from the grill. Set aside.
Spray your grill or grill pan with cooking spray and place the Prosciutto slices down. They are thin and will cook quickly so watch them or they will burn. After about a minute or two on each side, remove the crisped Prosciutto slices. Once they have cooled you can crumble them into large pieces.
Finally, take your pizza dough and form it out to a rectangular shape on a baking sheet. Rub olive oil on the formed dough and place it onto a hot, oiled grill. Once the dough begins to puff, flip it to cook the other side. Once you have flipped the dough, while still on the grill, add your Mozzarella cheese slices. Top the cheese with your garlic cream sauce. Then layer on the grilled vegetables, chicken and crumbled Prosciutto. Close the grill cover. Let the dough continue to cook until done, probably only 3-4 minutes, meanwhile the cheese will melt. Open the lid, remove the pizza and serve. It's best sprinkled with Parmesan cheese and red pepper flakes. Enjoy with a nice Pinot Noir or Chianti.