Ahhh lasagna. It's practically a perfect food. It can contain most of the five food groups - meat, dairy, carb, and vegetable. You can make it literally a thousand different ways from traditional to gourmet. I've had awful lasagna and I've had fabulous lasagna. Awful lasagna is when the noodles are overcooked, or the whole thing is watery or it's too dry. Fabulous lasagna is all about creating that perfect balance. Just enough sauce, fillings and cheese to send you into a carbohydrate coma. It's the ultimate comfort food, especially for me since I'm Italian-American. As a child, I would request Lasagna every year for my birthday dinner. It took so long to make, boil the noodles, simmer the homemade sauce, make the beef. It was practically an all-day experience for my mother. Then when my brother came along and we got older, she simplified it and made a much more healthier version. Jarred sauce replaced homemade sauce, no-bake noodles saved time, cottage cheese stood in for the heavy ricotta and spinach replaced the ground beef mixture. It was still delicious, and even better we could have it more often because it was easy.
When my husband and I were dating and eventually moved in together, lasagna was my go-to meal. And I always made the quick version my mother did. Until recently, I've started experimenting with other possible fillings. This is one such experiment. And I've also found a quick and simple way to avoid using jarred sauce. So get your sweatpants out with that elastic waistband and pull up a chair. It's time for some gut-busting lasagna.
Shredded Chicken, Spinach and Portobello Mushroom Lasagna with Roasted Tomato Marinara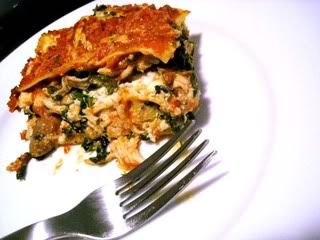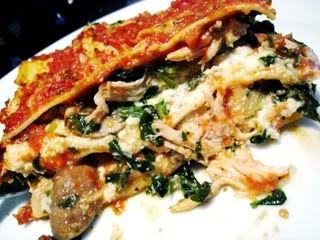 1 chicken breast
2 cups water
1 bay leaf
1 sprig of fresh rosemary
1 container of baby portobello mushrooms or 3 large portobello mushroom caps, sliced
10 oz. container chopped frozen spinach (defrosted and water squeezed out)
15 oz. container of Whole-Milk Ricotta
2 eggs
1 1/2 cups shredded mozzarella
1/2 cup grated pecorino romano (or parmesan, but make sure it's fresh cheese, not the stuff from the unrefrigerated aisle like Kraft Parmesan - yuck!)
1 teaspoon of dried oregano
1 teaspoon of minced garlic
2 tablespoons olive oil
6 Barilla no-bake lasagna noodles (I like these the best because the pasta is thin and delicate, not gummy or heavy)
3 cups Roasted Tomato Marinara (recipe below)
salt and pepper
Season your chicken breast on both sides with salt and pepper. In a small saucepan, add your water, bay leaf, rosemary and 1 tablespoon of your olive oil. Add your chicken breast and bring the mixture to a boil. Once it is boiling turn your water down to a simmer and allow your chicken to poach for about 5 to 10 minutes or until done. Don't overcook because it will dry out in the oven. Remove your chicken from the water and set aside to cool. Once cool, take a fork and shred the chicken by pulling the fork across the top of the breast.
Heat a skillet over medium heat, add your remaining tablespoon of olive oil and your sliced mushrooms. Once the mushrooms begin to soften, throw in your spinach and cook for an additional 2 to 3 minutes. Take the pan off the heat and mix in your shredded chicken. Season the mixture with salt and pepper and set aside.
In a separate bowl, mix together your ricotta cheese and two eggs, along with your shredded mozzarella, grated romano cheese, oregano and garlic and season with salt and pepper.
Spray the bottom of your lasagna pan with cooking spray. My lasagna pan is an odd size, 8x6. This size works perfectly for two noodle stacks. If your pan is bigger, just be prepared to layer with three noodle stacks. After you've sprayed the bottom of your pan, ladle in about 1/2 cup of your tomato sauce. Place two lasagna noodles on top of the sauce. Spoon half of your cheese mixture on top of the noodles and spread it out evenly. On top of that spoon half of your chicken and vegetable mixture and spread evenly. Top with another 1/2 cup or more, whatever it takes, of sauce. Top with two more noodles and repeat. After you've used up your fillings, top with two additional noodles. Ladle another 1/2 cup of sauce on top of those noodles and then sprinkle a generous amount of grated romano down on the top. You can also sprinkle more shredded mozzarella if you'd like.
Cover with foil and bake for 35 minutes. Remove foil and bake for an additional 10 minutes, until sauce is bubbly. Remove and allow the lasagna to cool slightly before serving. Serve with additional marinara if desired.
Roasted Tomato Marinara
2 pints of grape tomatoes
4 sprigs of fresh oregano, chopped
1 tablespoon of garlic (or more if you're like me and love garlicky tomato sauce)
2 tablespoons of olive oil
1 8 oz. can of tomato sauce
Fresh basil
Salt and pepper
Preheat the oven to 375. In a foil pan or baking dish, mix your tomatoes, oregano, garlic and olive oil. Toss to coat the tomatoes and season with salt and pepper.
Put them in the oven and allow them to roast until they are soft and the juices have become bubbly and slightly thick, about 30 minutes. Remove from the oven and place your tomatoes in a food processor. Add your can of tomato sauce and process until all ingredients are blended. Season to taste with salt and pepper. If your sauce is a bit tart, add a 1/2 teaspoon of sugar or more if needed to sweeten it up. Shred up some fresh basil and toss it in your sauce. You can simmer it on the stove if you have time, but if not it's ready to use in your lasagna! Enjoy!
(Sorry I don't have more pics. My camera battery was charging while I was making dinner so I only have pics of my results this time around.)