While flipping through some of my food magazines, I came across these two gems. I have to say, my husband and I are total carnivores and I'm always looking for new ways to grill a steak. In the summer, we live at the grill. Chicken, steaks, sausages, pork, fish fillets, shrimp, vegetables, even fruits (grilled pineapple and peaches with vanilla ice cream - sends shivers down my spine just thinking about it!!). Anyway, enough diversion. I found these two recipes to be quite good, especially the fig balsamic glaze used to baste the steaks and grilled onions. My husband isn't such a fan of eggplant, but he indulged me nonetheless. I on the other hand, love eggplant and I thought the spicy flavor of this dish balanced well with the nutty sesame oil. I'd never used Mirin before, but it gave a very nice, bright flavor to the eggplant.
Japanese Spiced Eggplant
(recipe from Food & Wine Magazine, Aug. 2008)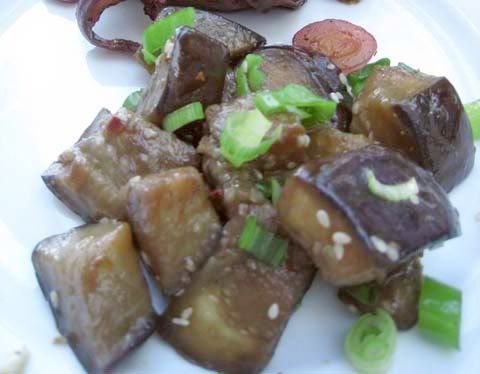 1.5 pounds Japanese eggplants, cut crosswise 1 inch thick
Togarashi, for sprinkling (this is a spice blend of sesame seeds, chiles and dried seaweed that can be found at Asian markets)
1/4 cup canola oil
1/4 cup sesame oil
2 tablespoons mirin (rice wine vinegar)
2 tablespoons low-sodium soy sauce
chopped scallions
Lightly sprinkle the eggplants with the Togarashi. In a large skillet, heat 2 tablespoons of the canola oil and 2 of the sesame oil. Once heated, add the eggplant and cook over moderately high heat until browned on the bottom, about 4 minutes. Brush the eggplant with the remaining oil and continue to cook until deeply browned on the bottom and tender. Add the mirin and soy sauce to the pan. Turn the eggplant until glazed and transfer to a platter. Sprinkle with more togarashi and the chopped scallions and serve.
Fig-Balsamic Glazed Grilled Steak and Red Onions
(recipe from www.beefitswhatsfordinner.com)
4 New York strip steaks (or any cut of your choosing)
1 medium red onion, cut into moderately thick slices, about a 1/2 inch
1/2 cup of fig preserves, chopped
2 tablespoons of balsamic vinegar
1 tablespoon of oil
1 teaspoon of minced garlic
1/2 teaspoon salt
1/2 teaspoon pepper
Generously season your steaks with salt and pepper on both sides, as well as your onion slices. Set them aside. Combine the fig preserves, vinegar, oil, garlic, salt and pepper in a bowl. Reserve 1/4 cup for dipping.
Spray your grill with cooking spray and place your steak and onion slices on the hot surface. Brush the steaks and onions with the saucce and grill covered for about 3 to 4 minutes. Open the grill, flip your steaks and onions and baste again. You can also baste intermittently as well to make sure the steaks and onions are well coated. Once they have finished grilling, remove them, sprinkle with salt and pepper to taste and serve with the remaining sauce.