I love Mexican food. In fact, there is a family-owned Mexican restaurant within walking distance of our townhouse and I literally drag my husband there every Monday night for dinner. There's just something about the salty, sweet margaritas, crunchy chips and queso dip and sizzling fajitas that has made me an addict. One would think that eating Mexican once a week would satisfy my craving, but usually it doesn't. Especially in the summertime. Summer just screams Mexican food to me because it's made with so many fresh veggies and has such bright flavors like lime, cilantro, spicy peppers, tomatoes. I'm not talking ChiChis variety Mexican where anything with ground beef or covered in grotesque amounts of shredded cheddar cheese is considered Mexican. I'm talking real Mexican cooking with fresh ingredients and Mexican style spices, like cumin, chili powder, and coriander.
So usually once or twice I week I subject my husband to Mexican again. Sometimes in the form of something simple, like quesadillas, but sometimes I go a little more gourmet. The following dish is a modification of two Rachael Ray recipes, Citrus Marinated Fish and Mexican Squash. And, thanks to Joelen, I have been encouraged to submit my recipe for her grilling challenge. Check it out on her blog,
Joelen's Culinary Adventures
.
I had to modify the Citrus fish (see below post) because it included enough zest to choke a horse - sorry Rach. I decided to combine fresh chilies with lime and fresh cilantro as well as some dry spices to create a zesty marinade, ahem, without the zest that is. For the Mexican Squash I kept Racheal's basic flavors the same, but added tons more vegetables and black beans as well (because, much to my husband's dismay, I heart beans!!)
So I present to you Cilantro Lime Fish with Mexican Squash and Beans.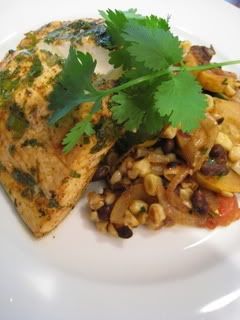 Cilantro Lime Grilled Halibut
4 filets of fish (Halibut, Mahi Mahi or Swordfish work best here)
4 tablespoons extra virgin olive oil (As a side note, I refuse REFUSE to write EVOO, no matter how lazy I'm feeling. Ok 'nuff said.)
1/3 cup chopped fresh Italian parsley
1/2 cup chopped fresh cilantro
Juice of 1 lemon
Juice of 1 lime
1 tablespoon of Tabasco sauce
2 chili peppers, chopped finely
1 teaspoon cumin (eyeball it, add more for taste if you like)
1 teaspoon chili powder (same here)
Salt and pepper to taste
Rinse you fish filets in cold water, pat them dry and season with salt and pepper. Set them aside on a platter while you combine all the remaining ingredients. You can use a food processor if you like, but I found it just as easy to chop everything up.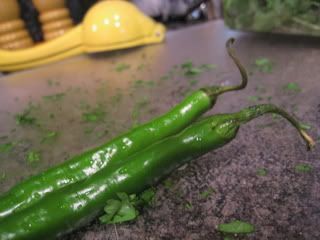 Once your marinade is ready, plunk your fish down in the sauce, cover with plastic wrap and let sit for 15 to 20 minutes. Try not to let it sit for too long because the citrus will begin to "cook" the fish. Preheat your outdoor grill or grill pan and spray with cooking spray or brush with olive oil. Place your well marinaded fish filets on the grill. Pour a little marinade over the filets and close the grill cover. After about 3-4 minutes, depending on thickness, flip your filets. Pour some marinade down on the other side and allow them to finish cooking for 2 to 3 minutes. Remove from grill and serve over Mexican Squash and Beans.
Mexican Squash and Beans
2 small zucchini, cut into discs
2 small yellow squash, cut into discs
1 green pepper, cut into slices
1 vidalia onion, cut into slices
1 large tomato, cut in large chunks
2 ears of corn (or you can use frozen corn kernels if you want)
5 tablespoons olive oil
2 teaspoons cumin
2 teaspoons chili powder
1 can of black beans, drained
2 jalapeno peppers, chopped
3 cloves of garlic, chopped
salt and pepper
After you've chopped up the zucchini, squash, pepper, onion and tomato place in a large mixing bowl. Cover with three tablespoons of the oil and a teaspoon each of the cumin and chili powder. Season generously with salt and pepper and stir to coat all the vegetables with the spices and oil. Peel the ears of corn, rub with olive oil and sprinkle lightly with salt and pepper. Preheat your grill.
Dump your vegetables into a grill pan on the grill. If you don't have a grill pan you can use a foil pan. Place your ears of corn directly on the grill. Close the lid and allow the vegetables and corn to cook for about 5 minutes. Keep an eye on them, lift the lid to stir the vegetables and turn the corn. The corn will start to yellow, as it softens and browns up slightly you can remove your ears. Once they cool you can cut the kernels off and mix with your finished vegetables. Once your vegetables are cooking to desired doneness, remove them from the grill.
On the stovetop, put your remaining 2 tablespoons of olive oil in a medium sized skillet. Add your chopped garlic and jalapenos and place on medium heat. Allow the peppers and garlic to soften, about 4 minutes. Add your drained black beans. Toss to coat with the olive oil and to distribute the garlic and peppers. Add a teaspoon of cumin and chili powder and continue to toss. After about two minutes in the pan, turn off the heat and mix the beans in with the other vegetables. Serve immediately.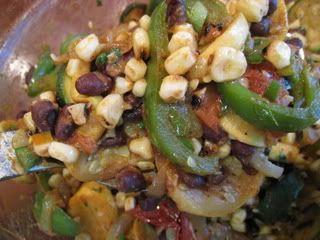 Side Note: You can use any leftover vegetables the next day and make a grilled vegetable quesadilla. Simply pile the vegetables up on a flour tortilla, cover with your favorite shredded cheese. Top with another tortilla and place in the oven at 350 degrees for about 15 minutes. Top with salsa, guacamole and sour cream and enjoy!