Last night I was too tired to go to the grocery store, so I rummaged through my fridge, freezer and cabinets and came up with this pasta dish. I used fresh rosemary from my garden and dried porcini mushrooms to come up with a fragrant cream sauce for my pork and pasta. If I had two pork medallions in my freezer I would have done this meal a bit differently - perhaps searing the pork medallions whole, or even grilling them, and then serving them over a bed of pasta and covered with the Porcini mushroom sauce. I think that would be a nicer presentation so that's how I am writing the recipe. However, I had only one piece of pork so I chopped it up and cooked it in pieces and just tossed it with the pasta. Either way, it made for a very taste, last minute supper for us.
Rosemary Pork and Pasta with a Porcini Mushroom Cream Sauce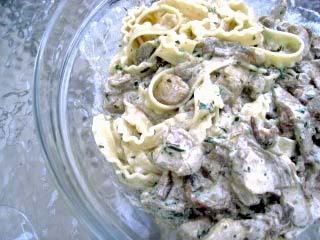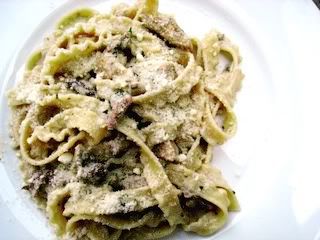 2 pork medallions
4 tablespoons olive oil
1 tablespoon of chopped fresh rosemary
3 cloves of garlic chopped
3/4 cup of chopped porcini mushrooms (soak dried mushrooms in hot water for about 15-20 minutes until they are soft. Drain them, reserving the soaking water, rinse them to remove any grit, and chop. Take the reserved soaking water and pour through a sieve coated with a cheese cloth or heavy paper towel to remove grit from the water. Reserve 1/4 cup of the soaking water for your cream sauce.)
Splash of dry white wine
1 cup of chicken broth
3/4 cup of half and half
1 tablespoon of butter
1/4 cup parmesan cheese, grated
pasta of your choosing, enough for two people (fettucine works best I think)
Season the pork with salt and pepper on both sides. If you're grilling the pork, rub both medallions with olive oil and place on the grill. If you're searing the pork, then pour two tablespoons of the oil into a heavy bottom skillet and place on medium heat. Once the oil is hot, place your pork medallions in and let cook for about 3-4 minutes on each side, depending on thickness. Once they are done, remove them from the pan and set aside. Cover with foil to keep warm.
In that same pan, pour the remaining two tablespoons of olive oil. Once it is hot, throw in your chopped garlic cloves. Allow to cook for about a minute or two, then deglaze the pan with a splash of white wine (about 1/8 to a 1/4 cup), scraping up all the browned bits from the pork and garlic. Then add your chopped rosemary, chopped mushrooms and season with salt and pepper. Stir these around until the wine has evaporated and the mushrooms are cooked. Turn the heat off and let sit while you prepare your cream sauce.
In a saucepan, bring your chicken stock and half and half to a boil. Once they come to a boil, reduce the heat to medium low so it can simmer. Whisk in the butter and parmesan cheese along with your reserved mushroom soaking liquid. Allow the mixture to come to a simmer and let thicken slightly. Keep a watchful eye on the sauce and stir with a whisk to prevent burning on the bottom. You can add a squeeze of fresh lemon juice if you want. Once it has reached a saucy consistency add your porcini mushroom mixture and keep warm.
Finally, prepare your pasta pot with salted water and bring to a boil. Add your pasta and cook for the required time, according to package directions. Once you've drained your pasta, place a pile of noodles on each plate, top with your pork medallion and then pour your porcini mushroom cream sauce over the top. Garnish with a sprig of fresh rosemary and some chopped fresh parsley. Serve with a green salad.