I wasn't going to make these, since the last thing I need hanging around the house are apple turnovers, but I ended up going to the beach last minute with my mom, aunt and a few of my aunt's friends, so they made the perfect easy breakfast treat for a crowd.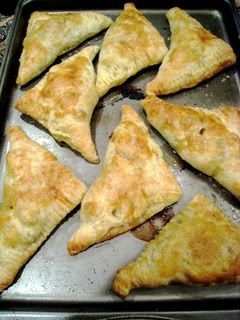 These were so simple to make, quite delicious to eat and even easier to freeze the leftovers. I really liked the addition of the cherries with the apples. They gave it a tart bite. And, just as a side note, frozen pre-made puff pastry is probably one of the greatest time savers in the world. It tastes great and always turns out beautifully. I don't really like to bake, but these were so effortless it didn't even feel like work.
One thing - I had A LOT of extra filling at the end. I made the turnovers at a pretty late hour and hadn't made any plans for the extra filling ahead of time and so at 11:30 at night I wasn't feeling like doing any more baking. So due to my fatigue and lack of creativity, the extra went to waste - I hate to admit. So if you're going to make these either scale down the filling measurements a bit or have a plan for the extras.
Apple Turnovers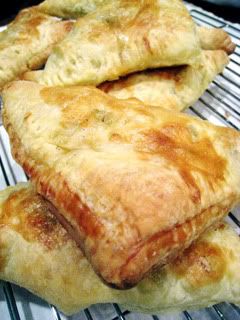 1 teaspoon grated orange zest
3 tablespoons freshly squeezed orange juice
1 1/4 pounds tart apples, such as Empire or Granny Smith (3 apples)
3 tablespoons dried cherries
3 tablespoons sugar, plus extra to sprinkle on top
1 tablespoon all-purpose flour
1/4 teaspoon ground cinnamon
1/8 teaspoon ground nutmeg
Pinch kosher salt
1 package (17.3 ounces, 2 sheets) frozen puff pastry, defrosted
1 egg beaten with 1 tablespoon water, for egg wash
Preheat the oven to 400 degrees F.
Combine the orange zest and orange juice in a bowl. Peel, quarter, and core the apples and then cut them in 3/4-inch dice. Immediately toss the apples with the zest and juice to prevent them from turning brown. Add the cherries, sugar, flour, cinnamon, nutmeg, and salt.
Flour a board and lightly roll each sheet of puff pastry to a 12 by 12-inch square. Cut each sheet into 4 smaller squares and keep chilled until ready to use.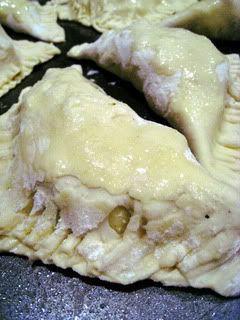 Brush the edges of each square with the egg wash and neatly place about 1/3 cup of the apple mixture on half of the square. Fold the pastry diagonally over the apple mixture and seal by pressing the edges with a fork. Transfer to a sheet pan lined with parchment paper. Brush the top with egg wash, sprinkle with sugar, make 2 small slits, and bake for 20 minutes, until browned and puffed. Serve warm or at room temperature.