Ok so I sort of completely revamped this recipe. Why? Well, mostly because I'm really not a huge fan of pot pie. I hate peas. I really hate potato chunks in a stew because I almost ALWAYS burn my mouth on them. Those things are like thermal conductors they hold so much darn heat! I always hated when it was pot pie day at school for lunch. My mother never made pot pie growing up. And now as an adult, the concept of eating a vegetable or meat stew topped with pastry dough just doesn't appeal. To me, pastry dough isn't all that tasty so why waste the calories and carbs on something so incredibly fattening and unhealthy?
So instead of making Ina's recipe verbatim, I made a few omissions and substitions. First of all, I added meat (when I mentioned a Vegetable Pot Pie to my husband he said, "What do you mean? Pot pies have chicken."). I browned up the filling of three Italian turkey sausages and added that to the vegetable stew. Secondly, I added eggplant, mushrooms, a can of chopped tomatoes, white wine, green pepper, celery (instead of the fennel), garlic and finally topped it all off with slices of prepared polenta.
I topped the polenta with grated romano and shoved the bowls in the oven on 375 for about 20 minutes. They came out hot and bubbly and the polenta rounds and cheese had crisped up to a nice golden brown. It was delicious! And much more my style than the traditional pot pie. I also think this version was much healthier, as I only used about two tablespoons of butter and two tablespoons of olive oil for the whole dish. I think Ina calls for like three sticks of butter, or something crazy like that. Also, prepared polenta has a lot less fat than pastry dough. If I'm going to eat pastry dough it better be attached to a really out of this world pie. But even then, I'm a pie gutter - mainly I eat the insides and leave the crust behind. I know, it's a bit odd, but as I said before to me pastry dough is pretty blah. I can understand that it serves a worthy function in the baking world, but it does not serve a worthy function on my hips.
So here is her recipe,
Vegetable Pot Pie
. Below is my version:
Italian Vegetable and Sausage Pot Pie
1 onion, chopped
2 cloves garlic, chopped
2 tablespoons butter
2 tablespoons olive oil
3 celery stalks, sliced
2 large carrots, chopped
1 small green pepper, chopped
1/4 cup flour
2 portobella mushroom caps, chopped
1 eggplant, cubed
1 can of diced tomatoes with juice
1 cup chicken stock
1/4 cup white wine
1 tablespoon dried oregano
1 bay leaf
salt and pepper to taste
3 Italian turkey sausages (if you like it in chunks, then keep it in the casings. Sausage casings make me want to puke, sorry, so I remove them and just brown up the insides into sausage crumbles)
a log of prepared polenta
grated romano cheese
In a large stew pot, combine your chopped onion, garlic, celery, carrots and green pepper with the butter and olive oil.
Cook over medium heat until your vegetables begin to soften and the celery and onion is translucent. Sprinkle in the flour and stir to coat all the vegetables.
Cook for about 2 minutes. Next add in your portobella mushrooms and cubed eggplant, as well as your can of tomatoes.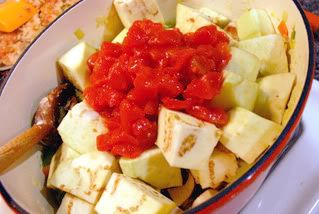 Stir to combine everything and let cook for about 5 minutes over medium-low heat. Then add your chicken stock and wine and turn the heat to bring the mixture to a simmer. Add your spices as well and let the stew cook until the eggplant has softened up a bit.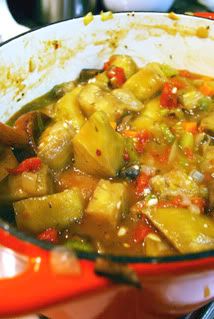 Meanwhile, in a pan, brown up your sausage. Once your eggplant has softened, add the sausage to the stew and turn the heat down to low.
Now let's turn this into a pot pie! Well, a sort of pot pie. Anyway, slice your polenta log into 1/2 inch thick rounds.
Preheat oven to 375. Ladle your stew into oven-safe bowls, top with three polenta rounds, sprinkle with your grated romano cheese.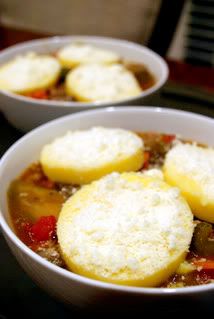 Place in the oven for 20 minutes until stew is bubbly hot and your polenta rounds have turned a deep golden yellow. Blow on it LIBERALLY!! Coming out of the oven this baby is going to be hot. Grab a large spoon and dig in. Sprinkle on more cheese if you so desire and enjoy with your loved ones on a cold October evening.