It's official. There is no better way to usher in Fall than with some sort of pumpkin treat. And what better way to eat pumpkin than with cream cheese? Yeah slathering cream cheese on a chunk of pumpkin isn't exactly what I mean, but cooked up with sugar, spice and everything nice it's divine. I found these
Pumpkin Cream Cheese Muffins
on
Annie's Eats Blog
.
They just sounded so tempting and the real topper was the topping, no pun intended. Those sugary cinnamony crunchy streusel bits on top are what really made these muffins stand out from the crowd. They were also quite quick and easy to whip up.
The downside: too many of these tempting pumpkin treats and it's going to look like I'm smuggling a pumpkin in the back of my jeans come December...if you catch my drift. In order to avoid eating my weight in pumpkin muffins, I halved the recipe below. Less muffins, less chance of muffin top in the old pantalones.
And I'm instituting a new rule - eat a pumpkin muffin, run 3 miles, eat a pumpkin muffin, run 3 miles. I figure the more I repeat, the more I'll want to do it.
Sigh.
Oh well, meanwhile here's the muffin recipe and some pics to tempt you to start your own little lovable muffin top :)...
Pumpkin Cream Cheese Muffins
Yield: 24 muffins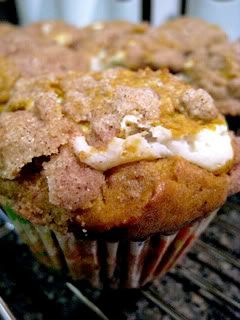 For the muffins:
3 cups flour
1 tsp. cinnamon
1 tsp. nutmeg
1 tsp. ground cloves
1 tbsp. and 1 tsp. pumpkin pie spice
1 tsp. salt
1 tsp. baking soda
4 eggs
1 ¼ cups vegetable oil
2 cups sugar
2 cups pumpkin puree
For the filling:
8 oz. cream cheese, softened
1 cup powdered sugar
For the streusel topping:
½ cup sugar
¼ cup and 1 tsp. flour
4 tbsp. butter, cubed
1 ½ tsp. cinnamon
Directions:
To prepare the filling, combine the cream cheese and powdered sugar in the bowl of an electric mixer and whip until smooth. Form into a log on plastic wrap or foil, making sure that the diameter is small enough to fit into the well of a muffin pan. Wrap the log up tightly and freeze until slightly hardened, 1-2 hours.
To make the muffins, combine the flour, spices, salt and baking soda in a medium bowl. Mix well and set aside. In the bowl of an electric mixer, combine the eggs, vegetable oil, sugar and pumpkin puree. Mix until well combined. Add in the dry ingredients and mix on low speed until just combined.
To make the streusel topping, combine all ingredients in a small bowl. Mix together with a pastry blender or two forks until crumbly.
Preheat the oven to 350°. Line two muffin pans with paper liners. To assemble the muffins, fill each muffin well halfway with batter. Remove the cream cheese log from the freezer and slice into 24 equal slices. Place a slice in each muffin well. Divide the remaining muffin batter evenly among the muffin cups, on top of the cream cheese. Sprinkle the streusel topping over the top of the batter. Bake for 20-25 minutes. Let cool completely before serving.
And here's a bad picture of the good cheesy layer running through the muffins.