While I'm not officially "in the running", I still couldn't resist coming up with some new recipe ideas for this challenge's secret ingredients that I chose:
Sage
Apples
Mushrooms
Bacon
Shallots
We've got some really good entries! If anyone still wants to enter let me know either by a comment or an email. I can extend the deadline one last week since I know a lot of people were still interested but ran out of time. Thanks to all those who got their entries in! They all look so tasty. The original post can be found here (includes the "rules"):
Platinum Chef Challenge #9
My two recipes were:
Apple Shallot Couscous with Sage and Toasted Pine Nuts
Spinach and Mushroom Bake with Bacon
Apple Shallot Couscous with Sage and Toasted Pine Nuts
Couscous, following package directions for 2-4 servings, boil in chicken or beef broth
1 apple, I used red delicious, chopped
2 shallots, sliced thinly
1/2 onion, chopped
6 fresh sage leaves, chiffonaded
1/2 tablespoon olive oil
4 tablespoons butter
1 teaspoon allspice
1 teaspoon cinnamon
salt and pepper to your taste
1/2 cup chicken or beef broth
3/4 cup pine nuts
Prepare your couscous according to package directions and then set aside, covered to keep warm. In a medium skillet, place your chopped apple, onion, shallots, sage leaves, olive oil and two tablespoons of butter. Cook until the shallots have softened and the apple starts releasing it's juices. Mix in the spices and stir to coat. Add another tablespoon of butter along with your chicken broth. Let the broth come to a simmer and allow it to thicken to a saucy consistency. In a smaller skillet over medium low heat, toast your pine nuts until brown. Be very careful not to burn them! They can burn very easily. Watch them and toss them in the skillet continuously.
Finally combine your prepared couscous with the apple shallot mixture and toss to coat. Add the final tablespoon of butter. Then stir in your toasted pinenuts, season with salt and pepper if needed and serve!
Spinach Mushroom Bake with Bacon
Adapted from the Costco cookbook's Spinach Bake
1 16-oz package of frozen chopped spinach, thawed and drained of excess water
3 portobello mushroom caps, sliced
1 small onion, minced
6 slices of bacon, chopped
5 fresh sage leaves, chiffonaded
1 tablespoon olive oil
1 1/4 cups of swiss cheese, grated
1/2 cup parmesan cheese, grated
2 eggs
splash of half and half or milk
1 1/2 cups of cream of mushroom soup (this was PERFECT! I used leftovers from this
Barefoot Bloggers recipe
that I had in the fridge)
paprika for sprinkling on the top
Preheat oven to 350 degrees. Set your spinach aside. Meanwhile, in a medium skillet saute your mushrooms, onions, chopped bacon and sage in olive oil until all elements are slightly cooked. Turn off heat and mix the ingredients with your prepared spinach. Once the mixture has cooled slightly you can then mix in a cup of your grated swiss cheese and a 1/4 cup of your grated parmesan cheese. In a small bowl, whisk together your eggs with a splash of half and half or milk. Pour into your spinach mixture and stir to combine. Season with salt and pepper to taste. Finally mix in your creamy mushroom soup and lay the mixture out into a baking pan. Top with the remaining 1/4 cup of swiss and 1/4 cup of parmesan. Sprinkle lightly with paprika and pop in the oven. Bake for 35 minutes or until cheese is hot and bubbly. Serve.
I served this with grilled tuna topped with a
dijon rosemary white wine sauce
.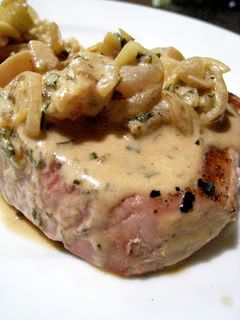 For the sauce I combined the following:
3 shallots, sliced thinly
1 tablespoon olive oil
1 large tablespoon chopped fresh rosemary
1/2 cup beef broth
1/4 cup dry white wine
2 tablespoons dijon mustard
1 tablespoon butter
salt and pepper to taste
Saute your shallots in olive oil and about halfway through add your rosemary. Saute until the rosemary begins to soften then deglaze the pan with your beef broth and wine. Bring to a simmer, add the dijon mustard and butter and allow the sauce to thicken a bit. Season with salt and pepper and then pour over your grilled chicken, fish or meat.