Well looks like it's about time to wrap this baby up! We had three fabulous submissions for this challenge, not including my creations which are a few posts below (shameless self promotion, I know). I was hoping we'd have a ton of submissions, but I think Fall is just a busy time for everyone. Nonetheless, I had some yummy treats to choose from here from three very talented bloggers and it was definitely a hard decision because I know everyone's dish would be equally delicious. Drum roll please....
The first submission came from Cookie in San Francisco, CA. Her blog,
Workout Then Cook
, is great! I wish I was as obsessed with working out as she is. It would make the eating part so much easier. She's definitely an inspiration!
Here are her entries: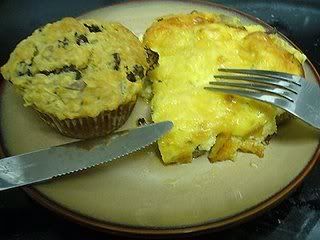 Apple Oatmeal Muffins
Ingredients: (6 muffins)
½ c all-purpose flour
½ quick oats
1 tsp baking powder
¼ tsp baking soda
1/3 c packed brown sugar
1 tsp dried sage
½ c raisins
½ c yogurt
1 egg, beaten
1 Tbsp vegetable oil
1 c apple, peeled and shredded (I used a food processor)
½ c raisins
Prep:
1. Preheat oven to 400 degrees F.
2. Lightly grease 6 muffin cups or line with paper muffin liners.
3. Stir together flour, baking powder, sugar, sage and salt. In a separate bowl, stir together yogurt, egg and oil. Stir egg mixture into flour mixture just until combined. Fold in apples, raisins and oatmeal.
4. Spoon batter into prepared muffin cups. Bake for 20 minutes, or until a toothpick inserted into center of a muffin comes out clean.
Mushroom Bacon Frittata
Ingredients:
4 large eggs, beaten
5 slices bacon
1 c sliced mushrooms
2 shallots, chopped
½ c sour cream
½ tsp salt
1/8 tsp ground black pepper
1 c Mexican cheese blend
Prep:
1. Preheat oven to 350 degrees.
2. In a large skillet over medium heat, cook bacon and reserve 1 Tbsp drippings.
3. Sauté mushrooms and shallots in bacon drippings, stirring occasionally, until shallots are tender and mushroom are lightly browned. Remove from heat and set aside.
4. In a medium mixing bowl, combine eggs, sour cream, cheese and seasonings and mix well. Pour egg mixture into small greased baking dish. Stir in onions and mushrooms. Sprinkle evenly with crumbled bacon.
5. Bake for 20 to 25 minutes or until eggs are completely set.
6. Remove from oven. Allow to cool 5 minutes. Slice in half and serve warm with Apple Oatmeal Muffins.
The second submission came from Stefany of Chicago. Her blog,
Proceed With Caution,
has always been a favorite of mine. She not only makes beautiful food but takes beautiful pictures as well.
Here's her entry, a dish which used all the ingredients in one fell swoop! Go Stefany!
Apple Pumpkin Chili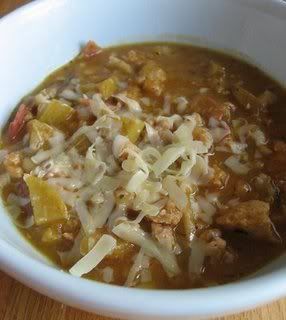 1 pound ground turkey or chicken, browned in a skillet
2 cans (15 oz each) white beans, I went for one can northern and one can navy
1.5 ounces shiitake mushrooms, stems removed, cleaned, and sliced
4 slices bacon, browned and crumbled or chopped
one medium shallot, diced
1 granny smith apple, diced
1/2 can pumpkin puree
2.5 cups chicken broth
1 tablespoon dried sage
2 teaspoons coriander
2 teaspoons chili powder
1 teaspoon thyme
(optional) equal parts arrowroot or cornstarch and chick broth, for thickening
grated gouda cheese, for topping
Combine all except thickener and cheese in a crockpot. Stir to mix ingredients. Cook on high for 4 hours or low for 6. Add thickener if desired and heat on high for a few minutes to thicken sauce. Serve, topping with grated gouda.
The final submission came from Amanda in San Jose, CA - with Cookie and Amanda we got California representin' in the Platinum Chef Challenge #9! Love it!
Anyway, her blog,
The Missing Ingredient,
has some very tasty food in it so be sure to check it out. She also has beautiful presentation with her entrees.
Here are her recipes:
Arugula Fuji Apple Salad
Vinaigrette:
2 Tbs and 1 tsp. red wine vinegar
1 Tbs. fresh lemon juice
3 Tbs. extra virgin olive oil
1/2 shallot, minced
pinch granulated sugar
1/4 tsp. balsamic vinegar
Salt and pepper to taste
2 slices turkey bacon
1/2 Tbs. butter
3 large button mushrooms, thinly sliced
1 large fuji apple, thinly sliced cross-wise
Arugula, about 1 cup
Coarsely chopped walnuts
1. Combine first 7 ingredients into a small bowl.
2. Cook bacon on medium-low heat until a small amount of drippings forms in the pan. Push bacon to the side and add butter to the drippings. Once butter has melted, sauce mushrooms until tender, about 4-5 minutes. You may continue to cook bacon until it is crispy if you prefer it crisper.
3. Crumble or chop bacon (depending on if you liked it crispy or soft) and add bacon and mushrooms to the vinaigrette. Save bacon drippings to make Walnut Crusted Pork recipe.
4. Place an apple slice on a plate, top with vinaigrette, then top with arugula. Place an additional apple slice on top of the arugula, followed by vinaigrette and arugula. Top with final apple slice and sprinkle with walnuts. Serve with Walnut Crusted Pork and wild rice.
Walnut Crusted Pork Chops
Adapted from: Cooking Light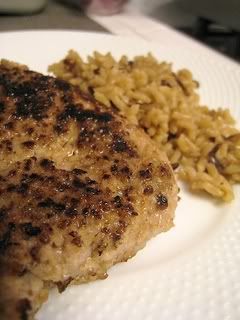 4 boneless center-cut pork chops, trimmed
1 1/2 tsp. Worcestershire sauce
1/2 tsp. kosher salt
1/8 tsp. freshly ground pepper
1/4 tsp. ground sage
1/3 cup walnuts, finely ground
2 Tbs. bread crumbs
1 shallot, minced
Bacon drippings (from Arugula Fuji salad)
1/4 cup fat-free, less-sodium chicken broth
1. To prepare pork, place chops in a shallow dish; drizzle evenly with Worcestershire. Combine salt, sage, and black pepper in a small bowl. Add walnuts, bread crumbs, and shallots to salt mixture; toss well. Press walnut mixture onto both sides of pork chops. Cover and refrigerate 30 minutes.
2. Using the leftover bacon drippings from the pan in Arugula Fuji salad, add pork chops to drippings in pan; cook 1 1/2 minutes on each side or until lightly browned. Add 1/4 cup chicken broth to pan. Cover, reduce heat, and cook 6 minutes or until desired degree of doneness. Serve with arugula fuji apple salad and wild rice.
And the winner is...
Amanda of The Missing Ingredient!!
Congratulations Amanda! All the recipes look great, but I really love Amanda's presentation and the combo of the tangy salad and the nutty salty pork just sounds Heavenly. I think it would make a great meal for a special occasion - I'm thinking it may be my and my husband's Valentine meal next year! Great job everyone and please keep an eye on Amanda's blog for the next round of the
Platinum Chef Challenge #10!