I think this has been making the rounds on the blogosphere lately. For me though, this meal has sentimental value.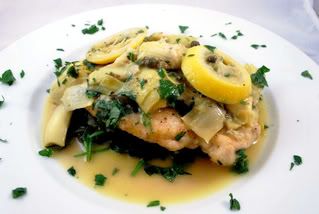 Why? Well, I used to make this all the time when my husband and I first moved in together - before we were married. We got a two-bedroom apartment together six months after we met. It was a gamble moving in together that quickly but somehow we just knew it would work. And it did! Sometimes I'm still so amazed that my husband and I found each other. It was completely by chance, but I can't imagine us being more suited for each other. We met randomly at a bar one night - he was there with his friends, I was there with mine. I noticed him immediately when he came in, but if you've seen my husband that isn't hard to do.
He's average height, 6'0, but what was really distinctive about him when we met was his hair. It was long. And I mean really long. Like halfway down his back long. On top of that, he's half-Brazilian. So he was literally tall, dark and handsome with long, black hair (he's since cut it). At first glance, I thought he was Native American. And when he walked into the bar that night looking all exotic with this long, black hair he truly looked like something off the cover of one of those Fabio-style romance novels. Except without the schmultz. I mean, he was dressed in baggy jeans, a button down cotton shirt with the sleeves rolled up and a fleece vest. But I could easily picture him on the back of a horse in the old west in a pair of deerskin chaps with the fringe on the side, no shirt, muscles rippling, and a feather headdress in his hair - this was me still thinking he was Native American.
Anyway, we finally got to talking that night after one of his friends convinced him to go for it (apparently he had noticed me too) and I discovered he was not Native American, but Brazilian. So still very mysterious to me. But at the same time, talking to him felt like being with an old friend - we just clicked. He asked for my number, called me two days later confessing that he couldn't wait the proverbial "four-day period" because he was so excited to talk to me again and the rest is history.
We moved in together and I began to cook. I ventured outside of my comfort zone rarely when I first starting cooking, so I had a lot of meals I rotated every week. Among them was pesto pasta, lasagna, spaghetti with homemade meat sauce, baked chicken, hamburgers on the George Foreman, quiche and Giada's chicken piccata. These dishes were all sure-fire meals to please my husband, who was at the time my live-in boyfriend. And they still work today.
A classic never dies, and this chicken piccata is definitely one for the books. I did add some chopped artichoke hearts to change it up a bit this time around. And since we're a little more wary of our weight these days (getting older sucks), I served it on a bed of wilted spinach, instead of a mound of pasta. Enjoy!
Chicken Piccata
source: The Food Network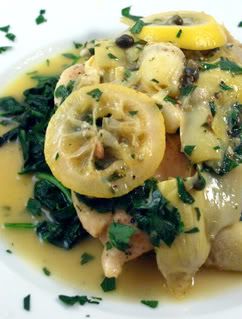 2 skinless and boneless chicken breasts, butterflied and then cut in half
Sea salt and freshly ground black pepper
All-purpose flour, for dredging
6 tablespoons unsalted butter
5 tablespoons extra-virgin olive oil
1/3 cup fresh lemon juice
1/2 cup chicken stock
1/4 cup brined capers, rinsed
1/3 cup fresh parsley, chopped
Directions
Season chicken with salt and pepper. Dredge chicken in flour and shake off excess.
In a large skillet over medium high heat, melt 2 tablespoons of butter with 3 tablespoons olive oil. When butter and oil start to sizzle, add 2 pieces of chicken and cook for 3 minutes. When chicken is browned, flip and cook other side for 3 minutes. Remove and transfer to plate. Melt 2 more tablespoons butter and add another 2 tablespoons olive oil. When butter and oil start to sizzle, add the other 2 pieces of chicken and brown both sides in same manner. Remove pan from heat and add chicken to the plate.
Into the pan add the lemon juice, stock and capers. Return to stove and bring to boil, scraping up brown bits from the pan for extra flavor. Check for seasoning. Return all the chicken to the pan and simmer for 5 minutes. Remove chicken to platter. Add remaining 2 tablespoons butter to sauce and whisk vigorously. Pour sauce over chicken and garnish with parsley.