Well, actually, I changed it to Salmon Salad because I was too lazy to go to the fish store for sushi-grade tuna. I don't trust the tuna at the grocery store to be sushi-grade. So I just settled on a nice piece of salmon from my local grocery store. It worked super in this tasty salad. I LOVED LOVED LOVED the dressing that Ina makes to go with this!! I did pare back the salt content though - I only used half of both the kosher and soy sauce amounts she dictates. And I found it to be perfect. Just the right amount of salt, tart and wasabi bite. I really loved the flavor.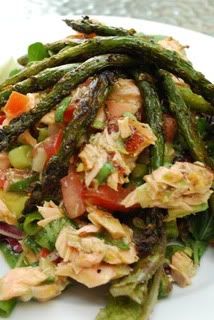 Instead of pan searing the salmon, I decided to grill it. The grill flavor went so well with the rest of the ingredients. Some other additions I made to this were grilled asparagus, chopped tomato and chopped fresh basil. I then served the salmon mixture over a bed of lettuce. It was such a satisfying summery meal and perfect for a hot humid evening.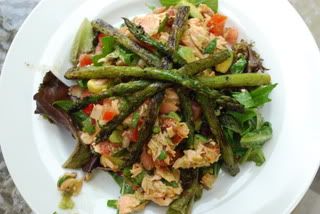 I would DEFINITELY make this again! It would be great for a sweet summer picnic. I'm really hoping my husband and I can take a picnic to the National Arboretum at some point this summer. It will allow me to combine some of my favorite things - cooking for the picnic lunch, photographing the beautiful arboretum and spending time with my husband. Sounds like a perfect day to me!! If this rain ever stops then we'll get there sooner rather than later. Come on summertime!!
Here's a link to the recipe if you're interested:
Tuna Salad
And here's a link to Barefoot bloggers to see
how everyone else made this dish.