I hosted a baby shower for my sister-in-law Irene who is due in July with their first baby. We had about 40 people and it was probably one of the largest crowds I've ever cooked for. But the entire party was a success! Thanks to the help of many in the kitchen with me as well.
Here's a picture of the menu I created: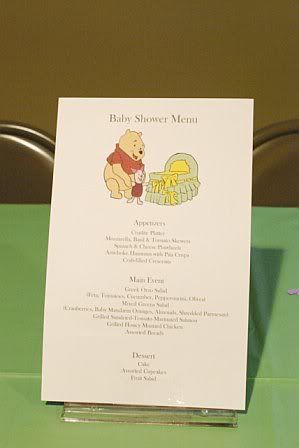 Appetizers
Roasted Red Pepper Wrapped Mozzarella Balls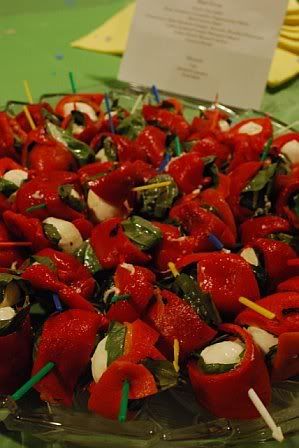 Cheesy Spinach Palmiers
Crab-Filled Crescents
(I added some Old Bay seasoning to this mixture. Every single one of these little gems disappeared! So good for a party, and easy to put together too.)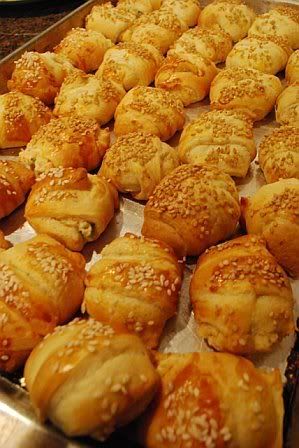 Artichoke Hummus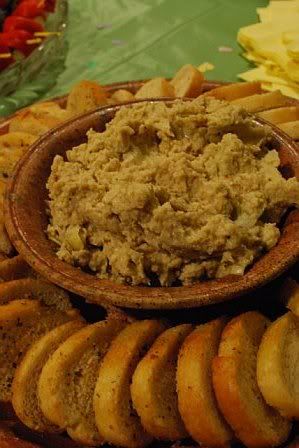 Giada's Spiced Cocktail Nuts
(These were a big hit! They were spicy and a bit sweet. People were asking me where they could buy them! They looked disappointed when I told them I made them myself so they couldn't be bought. Delicious!)
Main Dishes
Greek Orzo Salad with Feta, Cucumbers, Pepperoncini, Olives and Grape Tomatoes
Mixed Greens Salad with Dried Cranberries, Slivered Almonds, Mandarin Oranges and Shredded Parmesan Cheese
Grilled Honey Mustard Chicken (I used PW's Ranch Chicken marinade and just eliminated the bacon and cheese topping)
Grilled Sundried Tomato Salmon (This went like hotcakes!)
Dessert
Cupcakes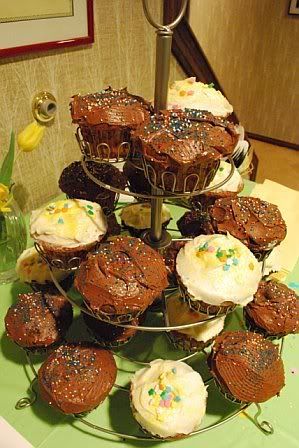 Cake
Fruit Salad
Here are some other pics:
My Sister-in-Law Irene
The cute favors I found online at
Ebeehoney.com
.
The cute diaper cake that my co-planner made and a nice shot of the main table.
The party planners and mom-to-be.