One of the best things about making risotto is making risotto cakes with the leftovers. In fact, my husband enjoys the fried little cakes much more than the risotto itself! And honestly, it's probably one of the most elegant ways I've ever seen to serve leftovers.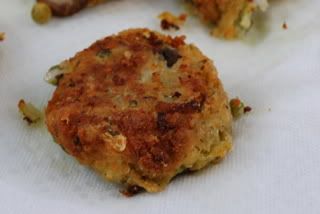 There are so many various ways to prepare these little gems too. You can hide a piece of cheese in the middle, bread them with flour or breadcrumbs only, or do what I did and dip them in flour, then egg and then breadcrumbs. You can serve them as a side dish or even an appetizer - plate them up with a marinara dipping sauce and it's party time! How fun! Is it getting you excited? No? Just me? Ok then...
Anyway, I will say this - it took me two tries to get the hang of making risotto cakes. I found the trick to be to keep them small, about the size of a meatball. They spread out when they cook and if you make your risotto ball too big it just falls apart in the grease leaving you with an oily mess that you'll just end up throwing away.Believe me, I've been there.
I served these risotto cakes with baked chicken and then drizzled them with your
basic pesto sauce
.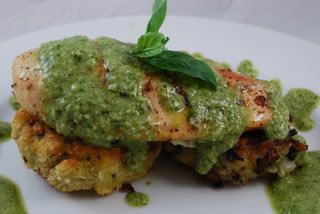 What a delicious dinner!
Risotto Cakes with Pea, Leek and Mushroom Risotto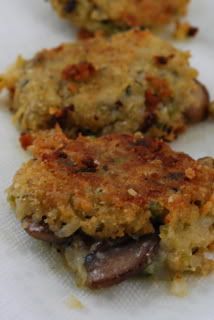 leftover risotto (of any variety will work, I just happened to have Pea, Leek and Mushroom on hand)
3 eggs, beaten
flour, about 2 cups
breadcrumbs, seasoned or panko style, about 2 cups
lots of olive oil
Pour olive oil into a deep skillet until it reach about 1 to 2 inches up the side of the pan, depending on how deep it is. Heat over moderate heat.
Meanwhile, form your risotto into balls about 2 to 3 inches around, the size of a meatball. If the risotto is too soupy and not sticking together you can add some flour to the risotto to help it stick together a little more. You can also add one beaten egg to the risotto to help it adhere if you're having trouble. Once you've formed your balls then dip them first in the flour then in the beaten egg and then in the breadcrumbs. Once the oil is hot place your balls in about 4 to 5 at time, don't overcrowd the pan.
Allow them to cook until golden brown on both sides. Remove and serve however you please.