I'm back!! Finally. Our internet has been temporarily restored so I'm working feverishly to upload all my photos before they go to work on the root of the problem, which is a severed cable. So until then...I'll be updating as much as possible.
We made this
Roasted Eggplant Spread
for Easter as an appetizer. This dip pairs sweet roasted peppers with rich eggplant, garlic and onion. The vegetables are then pureed into a creamy dip with tahini, olive oil, lemon juice and salt and pepper. This is an Ina recipe that has become a staple for parties and holiday gatherings in our family. It's not only healthy but tastes great and pairs well with some grilled crostini. Enjoy!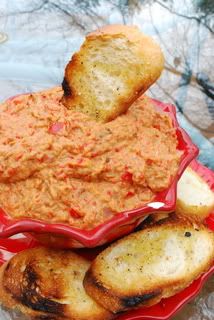 2 medium eggplants, peeled
1 red bell pepper, seeded
1 red onion, peeled
2 garlic cloves, minced
3 tablespoons good olive oil
1/2 teaspoon cayenne pepper
1 1/2 teaspoons kosher salt
1/2 teaspoon freshly ground black pepper
2 tablespoons lemon juice
2 tablespoons tahini
3 tablespoons chopped parsley, plus extra for garnish
Preheat the oven to 400 degrees F.
Cut the eggplant, bell pepper, and onion into 1-inch cubes. Toss them in a large bowl with the garlic, olive oil, cayenne and salt and pepper. Spread them on a baking sheet. Roast for 45 minutes, until the vegetables are lightly browned and soft, tossing once during cooking. Cool slightly.
Place the vegetables in a food processor fitted with a steel blade, add the lemon juice and tahini, and pulse 3 or 4 times to blend. Taste for salt and pepper. Transfer to a bowl and add the chopped parsley. Garnish with extra parsley.