I love making risotto. I remember the first time I tried to make it too. It was quite a challenge. But it's truly something that gets better and easier with practice. And yes it's time consuming and no you can't rush it no matter how much you want to. It kind of reminds me of a scene from one of my favorite movies,
My Cousin Vinny
. Remember when Joe Pesci was questioning how much time it took for one of the witnesses to cook grits? He said something like, "You're telling me that on your stove it only takes 2 minutes for water to soak into a grit when it takes the rest of the grit-making world 30 minutes? Are these magic grits? Did you get them from the same place where Jack got his magic beans?"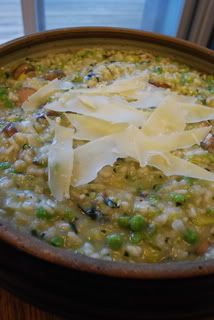 Like grits, risotto takes a certain amount of time to soak in the water and wine you cook it in to get it to that special, creamy texture. If you let it go too long however, it gets mushy, but take it off too soon and it's too hard to bite into. The best tip I can share for making risotto is to use room temperature wine and heat your chicken stock. The first few times I made risotto I read those instructions to heat the stock and thought - that can't make a difference?? I was wrong. It certainly did. I went from spending two hours trying to get my risotto to be supple and creamy to having it reach that consistency in about 45 minutes. I made this particular risotto for Easter dinner and it was delicious. I really liked the addition of the leeks and the fresh basil and pea puree gave it a beautiful bright green color. Perfect for spring! Enjoy.
Pea and Leek Risotto with Basil
The Wine Lover Cooks With Wine, by Sid Goldstein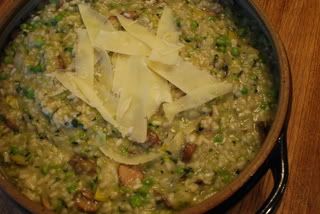 1 cup salted water
2 cups packed fresh basil leaves
2 pounds green peas, shelled (I used a package of frozen peas)
5 cups chicken stock
3 tablespoons butter
1 leek, including light green parts, rinsed well and finely diced
1/2 cup chopped yellow onion
1 tablespoons minced shallot
1 1/2 cups Arborio rice
3/4 cup dry white wine
2 tablespoons goat cheese (I substituted shavings of Parmesan cheese)
2 tablespoons minced tarragon (I left this out because I don't care for tarragon)
In a small saucepan bring the salted water to a boil. Add the basil and cook for 1 minute. Turn off heat and stir in 1 cup of peas. Let stand for about 5 minutes. Drain and transfer to a food processor. Puree until smooth. Season with salt and pepper and set aside.
In a small saucepan, bring the stock to a low simmer. In a large heavy saucepan, melt the butter and or olive oil over medium high heat. Add the leek and onion and saute until the leek begins to soften, 7 to 8 minutes. Add the shallot and cook for 1 to 2 minutes. Season with salt and pepper.
Add the rice and stir until it is opaque. Add the wine and summer, stirring until completely absorbed. Add 2 cups of the hot stock and simmer until absorbed by the rice, stirring often. Continue to add the stock in 1/2 cup increments, stirring constantly, until each addition is absorbed. When all the stock has been added, the rice should be almost al dente.
Stir in the puree and the remaining peas. Cook and stir until the peas are just cooked through and the rice is al dente, 2 to 3 minutes. Remove from heat and stir in the goat cheese (or parmesan) and tarragon. Taste and adjust seasoning.
To serve, divide the risotto among warmed pasta or soup bowls. Garnish with parmesan shavings and serve.