I'm sure this has been done before, but I didn't follow a recipe for this. I just knew the flavors would go together well. It was a simple weeknight meal with a ton of flavor. Enjoy!
Prosciutto-Wrapped Mozzarella Chicken with Blistered Basil Tomatoes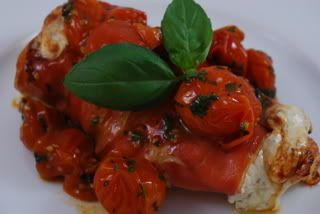 1 package of thinly sliced prosciutto
1 8 oz. ball of fresh buffalo mozzarella
a large bunch of basil leaves
4 chicken breasts
1 package of grape or cherry tomatoes, whichever you prefer
olive oil
Preheat oven to 350. Cut a pocket in your chicken breasts. Stuff each breast with two slices of your buffalo mozzarella along with a few fresh basil leaves. Close up your chicken, drizzle with a little olive oil, sprinkle with salt and pepper and then wrap each chicken breast with one to two pieces of prosciutto. Whatever it takes to cover and close the breast.
Place on a baking sheet and put in the oven to cook for about 35 minutes.
In a separate bowl combine your tomatoes with a handful of chopped fresh basil leaves. Sprinkle with salt and pepper and toss with olive oil. If you have a grill you can grill these in a foil pan over the heat. Otherwise, you can toss them in the oven with the chicken. Allow them to cook until they start to blister and the skins pucker.
Once your chicken is done and the juices run clear, it's ready to serve. Top with your basil tomatoes and serve.