It's almost officially summer! That means it's time to dust off the grill, get out those grilling instruments and fire up the barbeque. I love to grill. In actuality, my family grills all throughout the year because we love grilled fish and steaks so much. But it's a double joy in the summer because you get to enjoy the warm, fresh air while you cook over an open flame. It just makes me feel so cowboy. Or cowgirl, I guess. It's a one-with-nature kind of cooking experience - even though I'm using a gas grill. Oh well. Close enough! Maybe one day I'll actually cook over a real open flame. Til then, my trusty gas grill from Sears will have to do. And it does just fine.
For some reason I was thinking about Chicken Cordon Bleu the other day, but I didn't want to do the traditional sauteed version. So I thought, why don't I grill it? In addition, I saw Bobby Flay grill potato wedges on his show and it sounded delicious! And much healthier than real french fries yet something different than roasted or mashed potatoes. I used my own set of herbs for the potatoes - I think Bobby did a Southwestern twist with cumin and chili powder - but followed his method. Quite good, a little dry. I don't know why? And of course I had no ketchup. But still tasty. The grill flavor on the potatoes was very nice.
The chicken turned our great! A lighter, fresher version of an old favorite. I really stuffed my chicken too with two slices each of ham and cheese. If that's too much for you feel free to use just one per breast. Enjoy!
Grilled Chicken Cordon Bleu
Source: Me
2 chicken breasts, pounded thin
4 slices of deli ham
4 slices of swiss cheese
two tablespoons chopped fresh rosemary
olive oil
salt and pepper
4 long wooden skewers (to secure your rollups)
After you've pounded your chicken breasts thin then sprinkle with salt and pepper. Lay down your slices of ham first and then top with your slices of swiss cheese. Roll up your chicken breasts and secure with two wooden skewers. Next, drizzle olive oil over the entire roll up and then sprinkle with your fresh rosemary. If you want to get your hands dirty then you can massage the olive oil and rosemary into your secured roll ups. Then sprinkle with salt and pepper.
Heat your grill. Place a piece of foil over the grill plates, spray it with cooking spray (like Pam). Once the grill is hot, place your rollups on the foil.
They'll take about 8 to 10 minutes per side - you will have to flip them. Once done, remove from the grill. Remove the skewers and serve. It's not in the picture but I drizzled them with some very sweet, aged Balsamic vinegar that I had bought in Little Italy in Philly. It was about $25 for a small bottle, but it's worth it. It was delicious! The rich, aged vinegar added a sweet, tangy bite. If you don't have this in your kitchen and just have regular balsamic you can make a balsamic reduction and drizzle that over your chicken.
Grilled Potato Wedges
Source: Adapted from Bobby Flay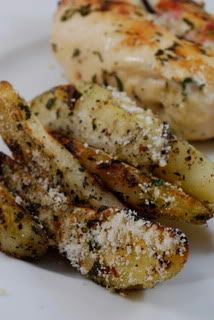 2 red skinned potatoes
olive oil
1/4 cup combo of chopped fresh herbs (I used chives and cilantro)
salt and pepper
grated parmesan or romano cheese
Put your potatoes in a pot and cover with water. Boil the potatoes whole until they are tender. Once tender, drain and then cut the potatoes into wedges. Toss the wedges with a good amount of olive oil as well as your herbs. Season with salt and pepper and they are ready for the grill.
Grill directly on the grill plates.
Keep an eye on them to make sure they aren't burning. Turn occasionally so they grill evenly on all sides. Once they have some nice grill marks remove from the grill. Toss with a nice handful of grated cheese and serve.