My husband loves buffalo wings. Let me give you some proof.
Once, he went on a "low-carb" diet that consisted of eating nothing but chicken wings 3 times a day for 30 days. No this was not endorsed by the American Heart Association, Dr. Atkins or even George Foreman. This was his own cockamayme (however you spell that) hair-brained scheme. Are you hearing me people? Chicken wings. For breakfast. Then again for lunch. Then again for dinner. Then again for breakfast. Well, you get the drift. Talk about disgusting. He literally had fryer grease coming out of his pores, started pecking at people and sprouted feathers....ok maybe I embellished a bit. This was before I knew him, thankfully, so the story gets more fantastic every time I hear it and then retell it. But it really doesn't need embellishment, because eating chicken wings 3 times a day for a month is ridiculous enough.
He did lose nearly 30 pounds eating just chicken wings, believe or not, but I would have hated to see his cholesterol. Or his blood pressure for that matter. Not to mention, a diet of straight protein isn't too friendly on the bowels. But enough details! My point is, this man loves chicken wings in an unnatural way.
So when I saw this recipe for baked buffalo chicken I knew I had to try it. Anything to distract him from the real thing, but still bring him that buffalo flavor he likes. I found this recipe on
Carrie's Sweet Life Blog
. I wonder if her husband has an obsession with chicken wings too? Doubt it, but there's always hope that someone out there knows what it's like to be married to a chicken wing addict. I keep the Franks Red Hot Sauce locked up tight.
Anyway, this chicken dish was quite good, albeit a little on the salty side for me. My husband didn't notice though. He did notice however, that it was a healthier version of his beloved wings. This, my friends, was a good thing. So in conclusion, not only was this easy to prepare but it satisfied a craving for that all too familiar junk food, buffalo wings. Enjoy!
Baked Buffalo Chicken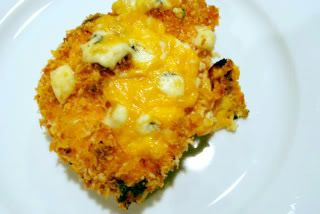 2 chicken breasts
1/2 c. Blue Cheese crumbles
3/4 c. Ranch Dressing
1/2 c. Franks Red Hot (I used Buffalo Sauce one)
1/2 c. Panko Bread Crumbs
1/3 c. shredded colby jack cheese
Preheat oven to 375. Spray baking dish with Pam.
Mix ranch dressing and franks red hot, marinate chicken for desired amount of time, I did mine overnight.
Cut slit in the side of chicken breast and stuff with blue cheese crumbles. (instead of stuffing mine, I put the blue cheese crumbles and shredded cheese on the top together.)
Dip into franks/dressing mixture then dip in bread crumbs.
Bake in prepared pan for 35 minutes. Turn oven up to 400 and top with shredded cheese.
Bake until done through.