I finally got a chance to cook on Sunday - and it felt good. Especially after my husband and I had been junk food junkies on Saturday. Potato skins and sliders for lunch, pizza with friends for dinner and then more junk at a Halloween costume party later that evening. Here's a pic of us in our costumes: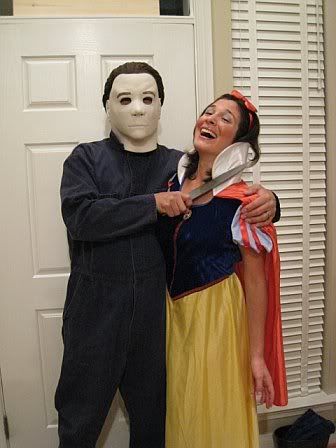 Quite a couple, hey?? Who knew Mike Myers and Snow White were an item :)
Anyway, the junk food was tasty but we definitely needed to detox with some healthy food on Sunday. So for dinner, I whipped up some roasted asparagus, a nice salad and some roasted salmon that I smothered with an herb mustard glaze. I've seen recipes for this sort of glaze before but this time I just decided to wing it and start throwing ingredients together. The result was delicious! The leftover salmon is great the next day to put on top of lettuce for a light lunch.
Enjoy!
Roasted Salmon with an Herb Mustard Glaze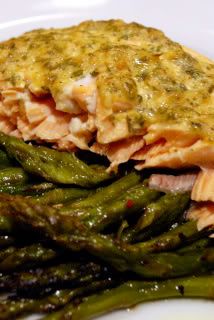 1 lb salmon
1 tablespoon dijon mustard
1 tablespoon minced garlic
1 tablespoon prepared horseradish
4 tablespoons olive oil
1 tablespoon chopped fresh rosemary
1 tablespoon chopped flat-leaf parsley
salt and pepper to taste
Preheat your oven to 375. Rinse and pat dry your salmon. Season lightly with salt and pepper. Put in a shallow baking dish or pan and set aside. In a small bowl, mix together your remaining ingredients. Once you have a thick paste, smother it over the top of your salmon.
I couldn't decide which picture was better. What do you think?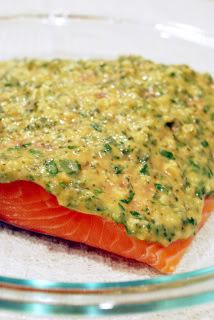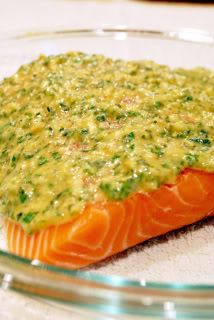 That salmon was so fresh and meaty I could have eaten it raw like sushi. But I resisted and put it in the oven for about 20-25 minutes.
The cooking time will really depend on a lot of things. HOw thick your salmon is, how done you want it etc. Ours was really cooked perfectly, still moist and tender in the middle, but not dry. And the glaze had browned a bit as well which was good.
I served it over top the roasted asparagus. Hopefully this is the start of a week of cooking - although somehow I doubt it since I'll only be home one night this week and then away for the weekend. Well...there's always next week!