I came across this recipe randomly one day while I was on msn.com. They had an article called,
Our Favorite Five-Star Chicken Ideas
. So many of these recipes sounded good, but I chose the chicken ragout because I had pretty much all of the ingredients on hand, it seemed healthy and fairly quick to put together.
I made some additions. Wine, green pepper and spinach mainly. In my opinion, every great meal begins with wine.
And I don't mean in it. I mean me, drinking it. I love to have a glass, or two, while I cook. I feel like it opens and relaxes the senses, allowing me to take in the whole cooking experience. It makes me feel like a real "in the trenches" cook. Ok yes I'm bullshitting you. I just really like wine and I really like drinking it while I cook. For me the two go hand in hand. My wine glass is almost as necessary a tool as my kitchen knife.
That aside, as you probably already know, it also serves as the perfect meal enhancer many times. If it goes with the meal, I love to just pour in a swig of wine straight from the bottle. It makes me feel French or something. No not really, but it's fun to just freely pour the wine while the pot is simmering, hear those glug glugs, a little music going, garlic sizzling. Wine just goes with the whole scene.
So needless to say, I glug glugged a few swigs in the ragout. It added great depth of flavor to the rich tomato sauce. I also loved the addition of the spinach to this dish. It, along with the beans, made it a hearty, healthy stew-like meal. Perfect for warming you up on a cold November evening. I did half this recipe, as I was only making it for two, not six. This would definitely feed a crowd otherwise. I also used chicken breasts rather than thighs and they turned out juicy and tender!
Chicken Ragout
adapted from Delish.com
6 large chicken thighs
2 tablespoon(s) salad oil
Salt
3 medium celery stalks, sliced into 1-inch pieces
3 medium carrots, sliced into 1/4-inch pieces
1 large onion, chopped
1 green pepper, chopped
1/4 teaspoon(s) black pepper
2 clove(s) garlic, mashed with garlic press or finely minced
generous splash of red wine
1 bag of baby spinach leaves
1 can(s) (16-ounce) Italian-style stewed tomatoes
2 can(s) (16 ounces each) Great Northern beans, drained
1/4 cup(s) chopped fresh basil or 1 1/2 teaspoons dried basil leaves
1. Remove skin and fat from chicken thighs. In 8-quart Dutch oven over medium-high heat, in hot salad oil, cook chicken thighs and 1/4 teaspoon salt until chicken is golden brown on all sides, removing chicken thighs to plate as they brown.
2. In drippings in Dutch oven, cook celery, carrots, onion, pepper, and 3/4 teaspoon salt, stirring occasionally, until vegetables are tender-crisp and golden brown. Stir in garlic; cook, stirring, 1 minute. Add the wine.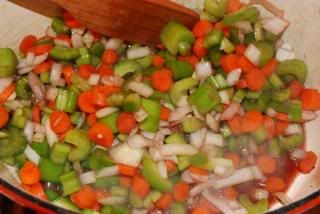 3. Add stewed tomatoes, using spoon to break up tomatoes. Return chicken thighs to Dutch oven; over high heat, heat to boiling. Reduce heat to medium-low; cover and simmer 25 minutes or until chicken is tender and juices run clear when chicken is pierced with a knife.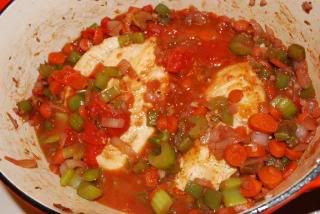 4. Remove chicken thighs to platter. Into vegetable mixture in Dutch oven, stir Great Northern beans, spinach and chopped basil; heat through.
5. To serve, spoon white-bean and tomato ragout around chicken thighs on platter. Top with a whole basil leaf for presentation.