I almost missed this round! I passed the torch on to Amanda at
The Missing Ingredient
and she came up with some tasty ingredients for the next round.
The chosen elements were:
1. Lemon
2. Lentils
3. Goat Cheese
4. Vinegar
5. Spinach
I had a few things in mind, but went with a goat cheese and lentil bruschetta topped with fresh spinach leaves. It was very good and we even ate the leftover lentil hummus the next day with some celery and carrot sticks. Healthy and delicious. Here's my recipe.
Goat Cheese and Lentil Bruschetta Topped with Fresh Baby Spinach
For the lentil spread:
1 cup lentils
2 sprigs rosemary
2 small bay leaves
2 cups chicken stock
2 cups water
1/4 cup olive oil
1 head of roasted garlic (to roast the garlic cut off the top, brush it with olive oil and place it in a baking dish. Pour water into the dish so it goes about 1/2 way up the head of garlic. Cover with foil. Preheat your oven to 425 and put in the garlic for about an hour or until soft. Remove, let cool and then squeeze out your soft cloves
)
juice of one lemon
1 tablespoon balsamic vinegar
salt and pepper
For the rest of the bruschetta:
1 bag of baby spinach leaves
1 loaf of French baguette
16 oz of spreadable herbed goat cheese (or any variety of goat cheese you like)
To make the lentil spread, combine your dry lentils, rosemary, bay leaves, chicken stock and water in a pot and place the lid cocked over top to let steam escape. Turn the burner to medium heat and allow the liquid to come to a boil. Reduce to a simmer and let simmer for 25 to 30 minutes until lentils are tender.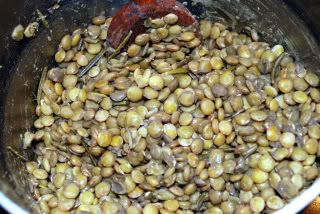 Once lentils are cooked, drain them, remove the bay leaves and the rosemary stems (many of the rosemary leaves will have come off the stems, this is fine it will all get pureed in the food processor. You just have to remove any woody stems.) Place the lentils in a food processor, add your lemon juice, garlic and vinegar and process. Stream in the olive oil as the processor is running until you have a creamy spread-like consistency. Add in salt and pepper to taste and set aside.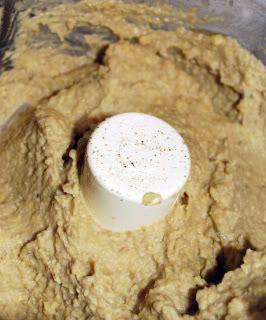 Preheat your oven to 350. Slice your baguette in half longways, as if you're going to make a sandwich with the entire baguette. Once you've done that then slice it into 4 in pieces. Drizzle olive oil over each piece, sprinkle with salt and pepper and place in your oven for about 10 to 15 minutes until bread is toasted. If it's warm out you can grill your bread, or if you have an indoor grill you can grill your bread. It was cold outside and I didn't feel like pulling out my indoor grill pan so I toasted it in the oven. Worked just fine.
Once the bread is toasty, pull it out and spread a layer of goat cheese on each piece.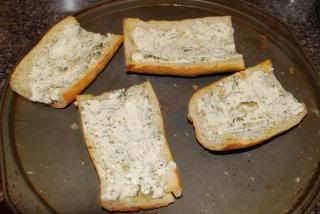 Then spread a thick layer of lentil spread on each piece.
Finally, top with a handful of baby spinach leaves.
You can place the bruschetta back in the oven for about 3 minutes to wilt the spinach just a bit and warm the spreads. Eat and enjoy!